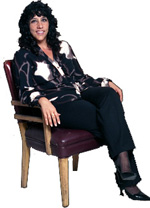 Q: "Denise, what's the best marketing piece you've ever seen?"
A: A series of visual boards I created for Open Houses. I set them up inside the house. Colorful visuals highlighted everything people needed to know about the local neighborhood. There were maps, school information, and market data.
Talk about a conversation starter! People would look at a chart and immediately ask me a question about it. I was so much more than just another agent showing a house—I showed them that I really was the local expert.