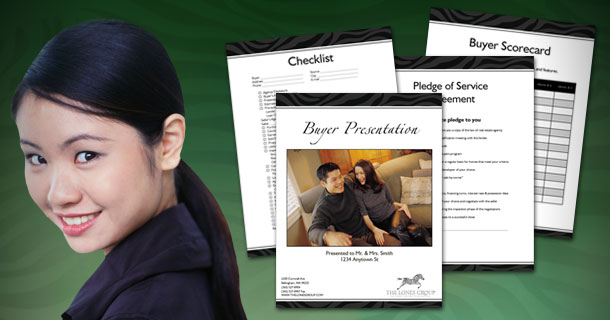 For most agents, building a lasting – and lucrative! – business requires cultivating both buyers and sellers as clients.  But many agents find working with buyers to be a frustrating experience. I want to change that! In my last Zebra Report, "The Key to Buyers", I discussed the reasons why engagement is such a critical piece of building a successful buyer business. Today I'll discuss two more critical pieces of the buyer puzzle – presentation and buyer tours.  
Presentation
Let's start with a scenario: Your phone rings; the caller would like to tour a particular listing. Do you rush right out and give them a tour … which forces you to try to establish a relationship with them on the fly? If you answered "yes" or "sometimes", you're missing a perfect opportunity to articulate your value and establish yourself as a buyer expert. A buyer presentation can do just that for you.
Agents who have strong buyer presentations see their buyer businesses skyrocket!
A buyer presentation is much like a listing presentation. The best buyer presentations are comprehensive packages of detailed information, designed to address the process of searching for (and buying) a home.  The presentation addresses who you are, how you assist buyers in meeting their goals, and explains the buying, negotiating, pending and closing processes. Finally, it outlines the advantages of pre-approved financing. A buyer presentation provides a wide range of information that all buyers – even experienced buyers – should know about buying a home in today's market.
Your buyer presentation should include:
Who I am
How I work with buyers
Getting ready to buy
Steps in the buying process
Positioning for successful negotiations
The pending-to-closing process
How I facilitate the transaction
There are four very important questions that you must ask during your buyer presentation. You may remember these from other Zebra Reports!  These questions will help you quickly build rapport with buyers, and alleviate the frustrations that can arise.
Question #1: How would you like me to communication with you?
I can't say this often enough: every buyer is different! Your preconceived opinions about buyers may cost you huge opportunities to offer concierge-level customer service. You may also lose thousands of dollars in commission income. Many buyers want new listing information the moment a property comes on the market. Some buyers want information sent weekly. Other buyers may feel that monthly communication works best for them. If there is more than one buyer in a group, the chances are they may each have very different preferences. Honor everyone's preferences, and you'll develop an amazing client-centric relationship.
Question #2: How do you like to search for homes?
When you assume you know how buyers want to look at homes, you're missing another important piece of the puzzle. In my Zebra Report titled "The Key to Buyers" I discussed the importance of asking this question at the outset, then creating a search process that puts the buyer's preferences first. You may have a showing method that works best for you, but it may not work best for your buyers. Simply asking this question is another way to build a strong relationship.
Question #3: What is your tolerance level for looking at homes?
This is a crucial question, but one that many agents never address with buyers. Are they going to be happy looking at everything in one day? Do they want to view three homes at a time … or are ten better for them? It's important for you to match the buyer's pace so that you're not leaving them bored and frustrated, or exhausted and overwhelmed. Many buyers simply shut down and will not buy if frustrated or overwhelmed.
Question #4: Would you like to start with a neighborhood tour?
Neighborhood tours offer an opportunity for you to provide important details about your market, and to address home prices and neighborhood appreciation rates. Tours also save everyone time by determining the homes and neighborhoods of most interest. Remember – people buy neighborhoods and communities. A neighborhood tour helps buyers define their wants and needs ahead of time.
A comprehensive, practiced, and professional buyer presentation allows you to obtain an incredible amount of information from your prospective buyers before you ever start looking at homes with them. Your buyers will learn what the buying process looks like and what they need to do in order to be prepared. And you will learn what your buyers want and need so you can provide the best possible service and outcome.
Buyer Tours:
You've established a good starting relationship with your buyers … but how do you take it one step further? It's simple!  You need to customize your buyer tour based on buyer preferences. This allows you to provide amazing service to your buyers.  Here are some ways to provide a memorable experience for buyers (and an enjoyable experience for you!).
Once you know your buyer's tolerance level, determine how to balance that with their timeframe. If you ask ahead of time, you'll have a much easier time planning their tour to meet their needs.
Establish how much time you have during every tour. It's easy to miss this step, which can cause headaches for everyone. Let's say your buyers give you a list of eight homes they would like to see. You set up a tour for all eight, starting at 9 am. However, the buyers neglect to tell you they have a family obligation at noon. Depending on the distance between homes, you may only have looked at four or five of them before you learn that they need to rush off. Now the buyers are frustrated, thinking you didn't plan correctly. On top of that, there are sellers expecting their home to be shown. Set up expectations ahead of time so everyone is on the same page. Know what your buyers expect in the timeframe they give you, and be upfront if you know their expectations won't match the reality of time.
Buyers want information! Buyers routinely comment that their agent did not provide them with enough information to feel confident about their purchase decision. Instead of giving them abbreviated information from your MLS, provide full printouts of each home you will be touring. Give them with as much neighborhood information as you can gather. Create rating sheets so that they can quickly and easily make notes on each home, then compare notes later. If you have more than one buyer in your group, give each one this information packet.
Provide concierge-level customer service. Start by keeping a small cooler in the trunk of your vehicle. Prior to setting out on your tour, fill it with cold drinks and easy-to-eat snacks. You don't need a picnic … just something small that makes a big impact. If your buyers are with you in your car, put it in the back seat with them and tell them to feel free to take what they'd like. If they are in their own car, at some point during your tour take an extra five or ten minutes to debrief and offer them a drink and a snack. It's amazing how few agents do this, and how strong the impact can be. I know of an agent who goes one step further – he knows exactly what his buyers' favorite coffee drinks are and stops at the local coffee stand before every tour. Now that's impressive!
Lastly, never send your buyers off without getting their feedback on each house you tour. Ask for their first impressions after each house, and talk about their likes and dislikes. Every time you receive feedback, you are getting a better sense of how to help your buyers make the right decision on what to buy, and when to buy it.
The bottom line here is two-fold – be organized and prepared with your professionally presented buyer presentation … and then be organized and prepared for an awesome buyer tour.
If you're ready to step back into the buyer market, but still feel a bit tentative about your skills and tools, stay tuned!  Next week will be my final installment on the keys to buyer success. I'll be talking about the last two critical pieces of the buyer puzzle: how to write offers that close (!) and creating a follow-up plan that builds a long-term, lucrative relationship.