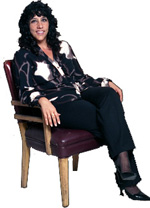 Q: Your article on typography was interesting, and something I've never heard much talk about.  But come on – with all the free fonts out there do you really think it's necessary for agents to spend money on fancy fonts?
A: That depends … on a number of issues!  If you can find a font you love that's free – by all means, use it.  However, the question of "free" versus "paid" is often related to licensing issues.  Many fonts are "free" for personal use, but can't be used free of charge commercially.  Since your real estate business is a commercial business, you can't simply use "free for personal use" fonts in your marketing materials.  You'll want to be sure to check the usage restrictions on any fonts you use.  This is where it really is helpful to work with a trusted source who understands the restrictions around fonts.  After all, you don't want to face a fine for having in effect "pirated" a font if you're using it inappropriately!
You also need to remember that free fonts — because they are free — may be used by lots of other agents.  If you truly want to differentiate yourself, or you want to tie your font in to your unique brand, really do your homework to find a "free" font you can use commercially.  Purchasing a less common font (or having one custom designed for you) can also be a great way to go!