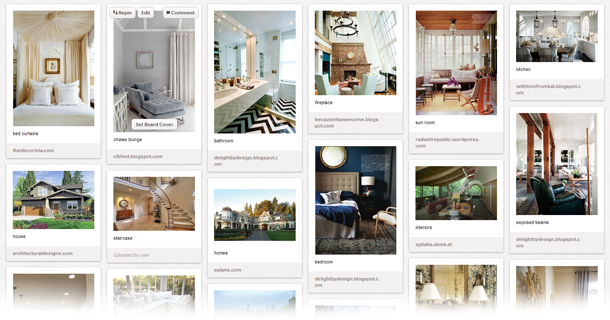 In an earlier Zebra Report I shared my thoughts about Pinterest, and how it could benefit your real estate business.
As you might remember – or may have discovered since that report – Pinterest is a website where users can curate theme-based images and collections. At heart, it's based on the concept of visions boards and social photo-sharing.
Of course, you can simply use Pinterest for fun, rather than trying to harness its strength for business. But I do think there is enormous opportunity to reach potential clients through Pinterest. If you want to do that, I'm going to suggest you develop "best practices" around pinning. Of course, many of these also apply to personal Pinterest use.
My eleven basic best practices for Pinterest:
Always credit your sources. Never, ever, pin or re-pin content without crediting the originator of the content.
Don't post untraceable content. This happens often if you do an image search on Google, and then post that image. You may be violating copyrights by doing this. Pin from the original source of the site.
Become a curator. More isn't necessarily better, either in terms of the number of boards you have or the number of pins within each board. It's pretty easy to hit visual overload on Pinterest; be thinking about whether the images you pin are on target. In other words, be strategic in what you pin!
Don't just take – give! It's a good idea to create your own original content, not just take content from others. A mix of the two is ideal.
Include pin descriptions, and use keywords when repinning. This is one of the biggest mistakes pinners make. When they repin something, they will erase the previous pinner's comments.. and just leave the comment section blank. Big mistake! Post a description that shares your feelings about the pin, and would help others find it.
Give your boards great names. What sounds more interesting to you – "Books I want to read", or "Stories Waiting to Be Told"? What about "Travel" versus "Where You'll Find Me Someday"? "Design" or "The Living Room of My Dreams"? Put a little thought (and personality) into the title of your boards.
Don't be overly promotional. If you want to include a board about real estate in your area, pins that are all about you, the value of working with you, and you-you-you are less likely to attract attention than a board that showcases home styles, parks, and community amenities in the area you are working. Share information and ideas, not a sales pitch.
Create a site that will appeal across demographics. That means you may have to think about segmenting your site in some meaningful way, based on the age, sex, hobbies and interests, or professions of viewers.
Engage. Follow, like, and repin content from others. Incorporate a Pinterest button into social sharing options, and of course you need to include it on your website. But be careful about connecting pins automatically to other social networks, such as Facebook and Twitter. Auto-sharing has the potential to clog the feeds of other users, especially if you are pinning vigorously. You might instead want to post to Facebook or Twitter a message along the lines of, "I just added a 'chocholics anonyomous' board to Pinterest. Check it out!"
Make sure it's visually interesting. This probably seems obvious, since Pinterest is a visual site, but there's a fair amount of "stuff" on Pinterest that just isn't eye candy. If you want to catch someone's attention with a pin, it has to look good.
Let your personality shine! By its very nature, your Pinterest account should reflect you – the things you like, the things that speak to you, the things that fascinate you. Let it be an authentic representation of who you are, and what your brand is all about.
I'm fascinated by Pinterest, and am interested to see how it will evolve in the future. Using these best practices will help you maximize your Pinterest experience.

I want to hear what you think about Pinterest! I invite you to take the short eight-question survey below. Or share your comments about Pinterest – what you love, what you don't like, and how you are using Pinterest in your personal or business life.
Pinterest remains a by-invitation only experience. While you can request an invitation directly from Pinterest, you'll be able to join more quickly by receiving an invitation from an existing member.
If you don't have an account, and would like to join, let me know and I'll send an invitation your way!
[polldaddy poll=6330160]
[polldaddy poll=6330174]
[polldaddy poll=6330179]
[polldaddy poll=6330187]
[polldaddy poll=6330199]
[polldaddy poll=6330201]
[polldaddy poll=6330204]
[polldaddy poll=6330208]