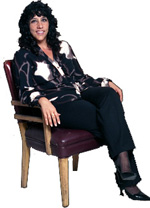 Q:  Last week you said technology wasn't the only answer to a good listing presentation. So what should I bring to show sellers? I don't feel like I have what I need to impress a seller. One agent brings a book showing all the awards she's won – that just seems weird to me. What do you recommend?

A:  Your timing couldn't be better on this! I've gotten this question so often recently that I've decided to hold a class on August 21st to show agents now only what they should bring to a listing presentation, but how to create an experience to knock the socks off a seller.
In the meantime, think "visual". Most people react strongly to powerful visuals. Photographs, charts, graphs, and samples of your marketing are going to grab their attention, and will have them imagining how you can showcase their home. Of course, you need to back that up with data that shows you have analyzed the marketplace.
I wouldn't recommend bringing what we used to call a "brag book" – a binder or collection of pieces that show how fabulous you are. Clients are more interested in what's in it for them. Rather than sharing awards, how about showing that your days-on-market time is the lowest in your marketplace, or that your list-to-sales price ratio is higher? That's a far more effective way to show that you are the agent of choice than a binder full of press clippings and certificates.