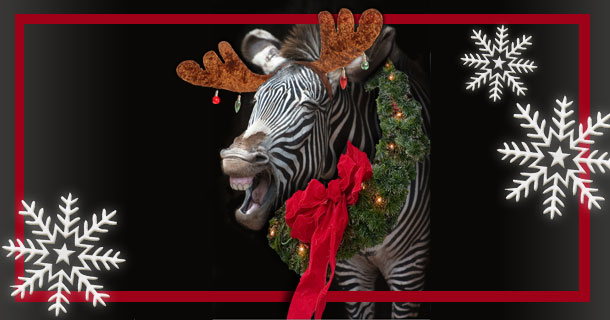 The holiday season is upon us – and for some cultures, it may already have occurred. But because my family celebrates Christmas I'm posting this Zebra Report right before the holiday that I personally celebrate.
All autumn I've been looking forward to this coming week. As the daylight hours have decreased along with the temperature in the air, it has lead me to this special season that I cherish so much. This fall, I've spent time planning and retooling my business for 2013 (and I'll be sharing some exciting new things with you next year). With that critical planning behind me, now is the time to relax.    
I come from a large, boisterous, Greek family (if you've seen the movie "My Big Fat Greek Wedding" you'll have some idea what I'm talking about!) My large, extended family has members ranging from in the womb to over 80 years old and everywhere in-between. When we all gather together at my house for the holidays, it's a raucous event filled with games, laughter, and – yes, you guessed it – lots of yummy Greek food!
But the holidays aren't just a time of busy-ness for me. I also take great joy in the quiet times that come at this time of year. With the quietness comes an opportunity to reflect on all the good things in life. And because Christmas is usually one of the few days each year that a client won't expect to be able to reach you, it can be a wonderful day to recharge.
If you've worked hard this year – and I know many of you have worked harder than you ever have before – I hope you will take time for yourself over the holidays to reconnect with family and friends in a meaningful way.
My wish for you is that the joy – whether it's loud and boisterous, or quiet and contained – that you experience this holiday season will continue throughout the year for you. I wish for you that you achieve your goals – whether it's selling more homes, growing your family, learning to skydive, or training your puppy. Whatever it is that you most value, may you find it in abundance.
Thank you for the time we've spent together this year. I cherish you, my Zebra Report readers, and look forward to continuing our journey in 2013.