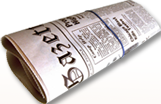 Median Home Prices Hit Seven Year High:
The National Association of Realtors (NAR) recently reported in their quarterly findings that the median home prices in the fourth quarter of 2012 showed its highest year-over-year increase in seven years.
The median existing single family home prices rose in 133 of the 152 metropolitan statistical areas (MSA's). This was fueled by continued high housing affordability conditions. These conditions include increased home sales, low interest rates, and new job creation.     
To read the source article on the NAR website, Click Here.