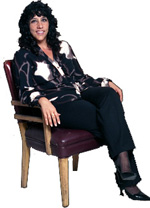 Q:  Denise, I am frustrated! I am just getting back into real estate and all this business seems to be going on all around me. But I can't seem to get my hands on a piece of it! I just started sending information out to my sphere and geographical farm, but I can't wait for that business to start popping. How do I get real estate business right now?
A: Great question! A lot of the business I am seeing springing up at the moment is indeed from seeds which were sown last year, so don't  be too hard on yourself. There are a few things you can be doing right now and they all have to do with connecting.
Hold open houses. Even if

you

don't have listings right now and feel like everything is flying off the market as soon as it gets there, there are still homes that are lingering. Perhaps at price points that aren't as robust at the moment, but there are still listings that people want to look at. And agents are busy and don't have time to hold them open. Do both of yourselves a favor and find some homes to hold open. And when you do have an open house – be present! Have market information available to hand out. Have property information available to hand out. Get off your phone and computer and be present, available, and engaging.   
Send a "State of the Market" article to your database consisting of an article explaining what current market conditions mean for buyers and sellers (and if you need some great content, check out my Club Zebra PRO content this month). Include year over year price changes, an analysis of your inventory and pendings, and anything else that might be relevant. And don't just mail it out – call up your sphere and let them know it is coming! Better yet, follow up again after you have sent it to see if they had any questions.
What else are you doing to connect? Do you belong to professional organizations? What about your personal interests? Many agents have gotten out of the habit of being involved in groups that appeal to their personal interests, whether that is due to lack of time or lack of mojo. But finding ways to feed your soul can also feed your pocketbook! I talked with one of my EVOLVE coaching group agents yesterday and one said she had a potential sale coming up because she had reconnected with her church group recently. Now that is motivation to stay involved!
The impact of personal connections on your business is HUGE!! Get out there and connect. You will be amazed at what happens!