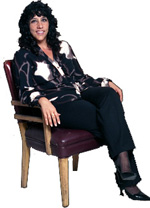 Q:  I have SO MUCH on my project "to do" list. I feel completely overwhelmed and every time I sit down to work on my list I feel so scattered and unfocused that I don't even want to start ANYTHING… let alone create a plan for finishing! My current clients take all of my time, leaving me with no energy to focus on my projects. How do I shake this and actually get something accomplished?
A:  You could have two things working against you – not just the size of your "to do" list, but also the pace which you like to work. Meaning, if you are someone who feels like they need a big chunk of time to get focused and down to business, then you need to be aware of this and budget your time accordingly.
I actually have a number of clients in this very same boat at the moment. My advice to them is to create a chunk of time to work on your project list … but then they have to defend it.
In one case, I recommended to one agent that she get up very early and be ready to work at 7:00 am. Then she was not to answer the phone, look at email, nothing except focus on her project until noon. Her challenge was going to be defending that time and not allowing anyone else to needle their way into that time – no clients, no kids, no spouse, no one! She did it about a week ago and she was productive! I know she will be scheduling more of these time chunks now that she has a formula that works.
If you are one of those rare breeds who can work on a project for 15 minutes here, 15 minutes there, then by all means do so. But you need to be disciplined to have several of those bursts each day in order to move forward on your projects.
The second thing you need to do is take some of this pressure off and only focus on one thing at a time – maybe two max. But going over your whole list every time you sit down to work is going to cause negative instead of positive pressure. Choose the most pressing tasks and get those done first. And then reward yourself for having done so!