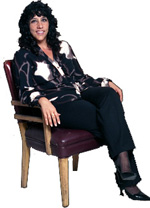 Q:  Denise, I really want to stand out in my geographical farm area, so what kind of advertisement should I put on my car or should I?
A:  This is a great question; let me share my story with you. When I was actively selling real estate I was very aggressively farming an specific area. One day I was called to do a listing presentation there. When I arrived I was told that I would be competing against another agent – and I knew exactly who this agent was. This agent was someone who was also heavily farming this area. I did my presentation and was thrilled to find out that I had been selected. So, I had all kinds of fantasies about why I was chosen. But when I talked to the seller one day she blurted out to me that she had hired me because there was no way she was going to hire anyone who wrapped their car in advertising and had their picture on their car. She said that she didn't want her neighbors to know her business and certainly didn't want THAT car parked in her driveway.
So, should you or shouldn't you? That is the question. While you may get some business from aggressively marketing in your farm area with a car wrapped in advertising, is it really worth the cost of your quality of life? I believe there should be a distinct line between your work and your family time. So, I would not wrap my car in advertising because of my desire to have my family time very separate. You could, however, do very tasteful advertising on removable car magnets. When you use magnets you can get the exposure you want, when you want it, and get the privacy you want, when you need it – by simply removing the magnet.