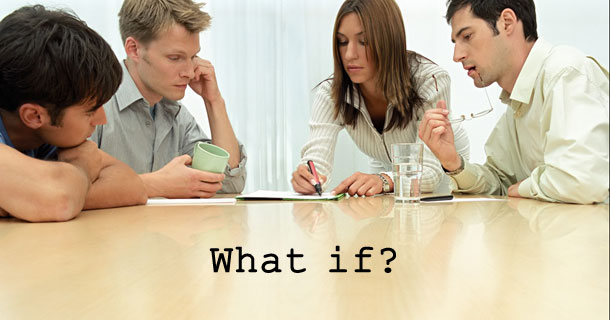 Over the next several weeks I am going to be covering the importance of two little words: "What if?"
Simply asking this question in a variety of scenarios will not only help you gauge what your clients are truly feeling about an issue, but it can also be a good tool for your clients to realize just how strongly – or not – they feel about an issue.
For example, let's say your buyers have found their dream home and they are ready to make an offer. You should be ecstatic for them and excited to be a part of helping them to get their new home. Instead you are concerned that they may not be willing to do what it is going to take to make this home theirs, as many buyers are unrealistic about what it takes to win in a competitive, low-inventory market.      
Have you ever sat down with a buyer to write an offer and they tell you that they want to offer much less than the purchase price? Or, even worse, they tell you that they want you to work your magic and do whatever you can to get them the house. The challenge with this kind of expectation is that it is not realistic, and if you don't explain this to the buyer you are setting them up for a big fall if they do not succeed in getting their dream home. The buyer may even blame you and decide to work with someone else.
Before putting pen to paper, it is important to have the "what if" discussion, whether it is a buyer going in with a low-ball offer, or a buyer needing to compete in a market with tight inventory. For example, in a multiple offer situation, if you don't feel like the buyer is doing all they can to win the offer… ask the question, "What if you lose the home because someone else outbids you?"
Then be still and wait for their answer. If they say, "That's okay; we will just find another house," present the "what if" question again. You might ask, "What if there isn't a better house out there than this one?"
By asking a "what if" question you are helping the buyer see the possible reality and consequences of not making a good decision up front. Some buyers might say, "If I don't get the home I guess it just wasn't meant to be." Ah! This is a great time to ask a series of "what if" questions:
"What if it was meant to be, but at a more competitive price?"
"What if we can't find another home like this one and the interest rates go up?"
"What if we can't find another home as close to your school/work as you wanted?"
"What if we continue to see inventory decline and prices go up?"
Asking "what if" helps you engage with your client and allows them to tap into how they really would feel if they lost the house. It provides a reality check for your buyers to consider doing what it takes to put their best offer forward right up front. And it helps buyers see things from a broader perspective.
Remember, your job is to help your buyer win the offer; including being open and discussing all the pitfalls of not being competitive. If you find yourself working with an unrealistic buyer, make sure you take the time to discuss all the possible "what ifs" with them and help them make a great decision.