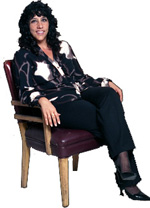 Q:  Denise, I have wasted so much time over the years working with buyers who never end up buying. Am I doing something wrong or is it just my luck?
A:  I don't believe that any kind of luck, good or bad, has anything to do this with. I believe that agents who find themselves working with buyers who never buy don't ask the hard-hitting questions up front. I also believe that what most people tell you they want up front can change significantly by the time they actually find the home they want to buy.      
The reason for this is quite simple: people often don't know exactly what they want until they see it. So make sure to keep your buyers' options open when showing them homes. Talk to them about what they liked and didn't like about each home to learn more about what worked and didn't. And be open to offering alternative choices. Buyers can be a wonderful source of business or they can waste your time if you don't ask enough questions before and during your search. The agent that does his/her pre-qualifying up front will find that buyers can be a wonderful way to build your business.