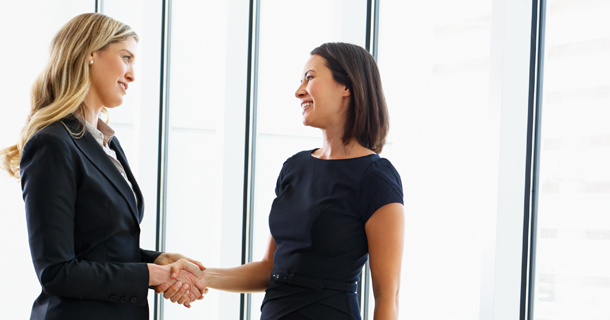 Yesterday in our EVOLVE meeting, we were discussing the much-debated advice of asking for referrals. Many real estate trainers, speakers, and "gurus" preach the same gospel: "If you want referrals, you better ask for them."
I say just the opposite.
All the gurus that tell you to ask for referrals after every sale are missing one big point. Think about it. How do your potential buyers, sellers and past clients FEEL when you ask for a referral?
It's an uncomfortable moment. They know you want something from them and it tarnishes the trust you've built together. Instead of a confidant, you become a typical salesperson. And most salespeople—like it or not—are seen as sharks by the average consumer.
In fact, one of the agents in our group indicated her husband was just recently asked for a referral. He was quite taken aback as he felt this person was a friend, not a salesperson, and he felt the relationship was now tarnished as friends shouldn't ask friends for referrals.
My own personal market research focuses on what the consumer wants and how he or she reacts to what you're asking for. All the consumers I've talked to adamantly state that if you exude professionalism and stay in touch with them, they will give you referrals—without you ever having to ask for them.
If you're not getting referrals, it has nothing to do with whether or not you are asking for them. Here are the real reasons you're not getting referrals:
You're not staying in touch with them after you get their money. Consumers want professional advisors who are looking out for them out of genuine concern—not just to make a sale.
Your marketing campaign is ego-based (meaning it's all about you and your next transaction). This creates the image of a shark-like predator in people's minds and they will avoid you just as they would a Great White.
You're not giving enough of your expertise away. By "giving away" I mean your expertise, advice, and good will—positioning yourself as your clients trusted expert.
The main reason people are stingy with giving referrals is that they're afraid you may reflect badly on them. They don't want to disappoint their friends and family by sending them to yet another shark. Even though you may be an honest pillar of your community, asking for a referral triggers the "shark alarm detector" in people's minds.
Also, when you're at parties or events, don't hound people by asking for business. Too many real estate agents are in the nasty habit of handing out cards while saying "Call me!" with a cheesy smile.
Instead, just talk to people. It's okay to tell them you're a real estate agent. But instead of asking for business, share something with them. Ask for advice about what they're an expert on. Make a connection. Then, shake hands and exchange cards without asking for business. Making a connection is a two way street not a one way road.
They now know what you do, and will be more likely to call you when they need you. You also know what they do and can refer business to them. See? "Win-win" always works. The sharks aren't making strong connections with others and are developing a bad reputation in the community by presenting themselves as predators who only care about their next sale. Don't be one of them!
One more tip: Some of the best referrals come from transactions where things have gone wrong. You may think I'm joking, but it's true. When you take a disaster and turn it around with your diligence and hard work, you often shine brighter than in transactions when everything goes smoothly. When problems arise, this is your golden opportunity to generate referrals. Dive in there and fix everything—no matter how irate or unreasonable your client may appear at the moment. They will sing your praises just as strongly when you solve the new problems.
Bottom line: If you feel uncomfortable asking for referrals, you can bet your clients do too. It sounds great at a seminar, but in real life if you're doing anything that makes you feel uncomfortable, it will show in your mannerisms and voice. This sparks distrust and sets off people's finely tuned "shark alarm detectors." Don't be a shark!
But does it feel uncomfortable to send out real estate information in the form of letters, articles, or reports? No. You always feel good knowing you're serving your past, present and future clients. And they feel good knowing there is somebody out there they can trust. Every time you contact them, you are in effect generating referrals—without asking.
And if you don't agree with me that is alright because what really matters is how your clients feel when you are asking for referrals.  What may seem to work for you may not be working for them.