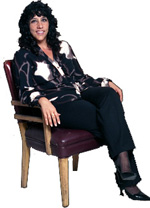 Q:  Denise, what do you think of my idea to create a prospecting list of historic homes in my area?
A:  I love it! But there are a few things I encourage you to do first:
Determine your budget. If you can't afford to send a piece of mail each month to 500 homes, start with a smaller number that does fit in your budget. Make sure you can continue your mailing program for one year at a MINIMUM! There are agents in my coaching program that receive dozens of clients from their farming areas, but that didn't happen the first year. It was only after several months of perseverance that they prevailed. Stay focused and committed and do not expect an instant result.
Do your research. Make sure the area you are mailing to has a history as a well-producing area. If you are mailing to an area of 500 homes, yet historically only 2 of those sell, you may want to find another farm area.
Check the competition. Does one agent dominate the business in that area? Do three agents hold a 15% market share respectively?
Determine a mailing campaign that will knock their socks off. Owners of historic homes generally are a special type of person who care about things like preservation and remodeling within historic guidelines. Make sure that whatever campaign you develop takes this into consideration.