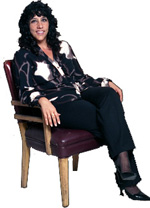 Q: Denise, I have just joined a new church. There are a few people in the congregation that I have talked to and would like to add to my database, but I don't want to seem like I have just joined this church to market to the members. What do you suggest?
A:  I think your instincts are correct. This calls for a more organic solution. If you have met some people and have talked with them about real estate, the next time the conversation goes to that topic, simply ask, "It seems like you are very interested in what is happening in the market. I create a market update each month. Would you like me to send it to you?" Then you have permission to add them to your database.
I would also encourage you to get involved. Find committees and opportunities that sound interesting to you, where you can meet more of your congregation. Be true to your interests. If you hate going near food, don't join the refreshment committee just to meet new people. Find a committee or group that is the right fit for you and that will beneficial for your well-being as well as your business.