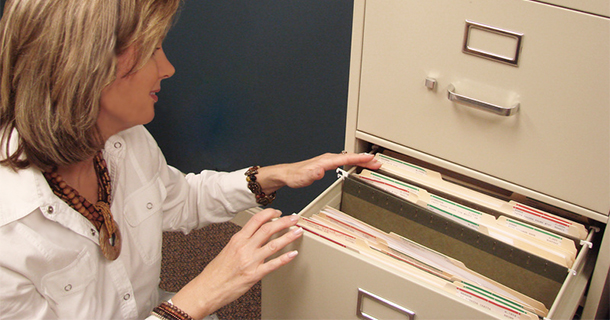 I don't profess to be a tax expert or an organization genius, but I do know a thing or two about managing large volumes of paper. Most real   estate agents have to manage a lot of paper and when it comes to the management of their personal financial affairs, it often gets put off until April 14th.
By paper I mean all of the things that we have to manage to keep our finances and files in order. I have
a very simple system that works brilliantly for helping me to minimize the amount of time I spend organizing receipts and filing paid bills.
Because real estate agents are usually independent contractors there is usually some overlap in the paper you must manage. For example, your car is likely has both personal and business miles on it, and you have a system for keeping track of this. Or you may have a home office which has a percentage of the utilities paid by your business. Today I am addressing how to keep your personal paperwork from becoming overwhelming and next week I will address some ways to handle your business filing and papers.
Below are four steps I follow to keep my financial affairs in order.
STEP ONE: THE RECEIPTS SYSTEM
The first step in keeping track of your expenses is to keep track of your receipts. The challenge for most people is that they collect a bunch of receipts, cringe at the thought of organizing them, and instead of handling them when the statement comes in, they just add them to the ever-growing pile. By the time they sit down to reconcile these receipts it becomes a major search mission to match receipts to statements because they are not in the right date order or separated by accounts. You may have receipts for things paid by check or cash, debit card, or a number of different credit cards (both for personal and business).
The simplest way to manage this is to have a small paper divider in your wallet that you have for each type of payment method you use. Look up "wallet organizer" online for examples – ideally you want a separate section for each type of payment you use. For example: If you normally use one debit card and two credit cards then have three dividers and each time you have a new expense simply file the receipt in the appropriate section and all receipts are filed behind one another. The purpose for doing this is so that when your bank or credit card statement comes you can simply and easily reconcile these receipts and they will automatically be in date order because they were filed by date. You did this without having to think about it or sort anything; you simply had to have a rule around how you filed the receipts when they came in. When your wallet gets too full all you have to do is take the receipts out of your wallet and put them into the account file in an envelope. When you go to reconcile your monthly statements you simply begin reconciling the receipts in the envelope first and then move on to any that might remain in your wallet. This is the fastest and simplest way to organize your receipts.
The other benefit of doing this is you can use colored highlighters and notate on the statement your tax-deductible items (for example, if you made an online donation to a charity, then you can notate "Donation" on your credit card statement so it is easy to track those down come tax time). Alternatively, if you use Quicken or another program to keep track of your expenses, make sure you categorize these items every month when you have the receipts in front of you.
STEP TWO: THE FILING SYSTEM
A good filing system is a color coordinated filing system. I have been using colored files for years and I couldn't be without them. They save me so much time when filing because I can simply look for the colored files when I do my filing and it makes my filing so much faster.
In a drawer close to where you manage your money or pay your bills have your files set up in categories. It is critical to have categories set up. Those categories need to include any and all accounts you have that need to be paid or that need some attention from you on a regular basis. Each category needs to be labeled and each category needs to be color coded. Here is a list of what some of those categories might be and how I would recommend color coding them.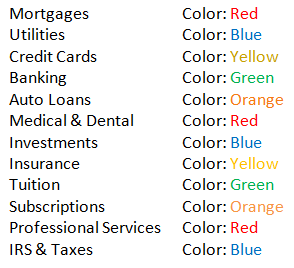 You can add any category that fits your financial picture. You then insert the same color file folders into the hanging category folder, this way everything in the mortgages category is red and all the utilities files are blue. This really helps when it comes to filing your bills and paperwork. Your eye quickly takes you to the colored section that is appropriate and you actually save time when filing. Each category needs to be clearly labeled.
STEP THREE – THE FILE STORAGE SYSTEM
I also keep a file storage box that is a duplicate of the one you have in your drawer so that as the year goes by and your drawer gets full or papers and receipts you simply transfer the contents of the files in the drawers to the files in the office storage box. That box is labeled by year and at the end of the year you transfer all the contents out of the drawer into the box and then you have a nicely organized system by year that you can have for tax preparation or storage.
STEP FOUR -THE IMPORTANT DOCUMENTS SYSTEM
I also think it is important to keep all your important documents in a separate binder and have it tucked away safely in a safe or a safe place. This way if these documents are in an easy-to-carry binder you can take them with you when you need them without having to rummage through a bunch of files. These documents include.
Birth Certificates
Death Certificates
Marriage Certificates
Social Security Statements
Life Insurance Policies
Copies of Investment accounts (the most current or quarterly statement)
Mortgage and loan information
Deeds
Passports
Savings Bond information
Funeral Planning information
Medical information
Having a binder like this is also helpful in the event of an emergency. Make sure you let anyone who may need to make decisions on your behalf know where to find this binder in the event you or your spouse need someone to handle your affairs if you are unable to.
Managing your personal finances this way can save you a huge headache when it comes to tax time. And wouldn't you like to spend a spring weekend outside enjoying the sun rather than searching for receipts and getting all your expenses accounted for? Go get some colored folders and a binder and revolutionize the way you handle the paperwork in your life.