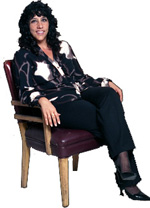 Q:  Denise, there is a boutique office in my market that has the most amazing, eye-catching "for sale" yard signs. They definitely stand out from the rest! I am with a large regional real estate company and my managing broker says I have to use my company's signs. What if I have you make some eye-catching signs for me and we just don't tell my managing broker?
A: While I applaud the fact that you recognize good marketing and the need to stand out, many real estate offices require signage to be corporate-issued. When creating a visual brand for an agent, we always encourage agents to stick with their brokerage's rules when it comes to signage use, logo use, and use of disclaimers. But remember, unless your brokerage prohibits you from having any sort of individual brand, there is no reason why you can't have a flyer box full of your eye-catching individually-branded flyers on-site.
You may even have a branded perma-flyer installed or branded directional signage. Inside the house you may have a branded home book, special feature cards or perhaps a "Please remove your shoes" sign. At an open house, you can really take it up a notch with branded market information and additional information about the house. You can even invite the neighbors with branded open house invitations!
Instead of thinking about the materials and signage in your business that you cannot apply a unique brand to, consider the different materials that you can brand and create a strong impact with.