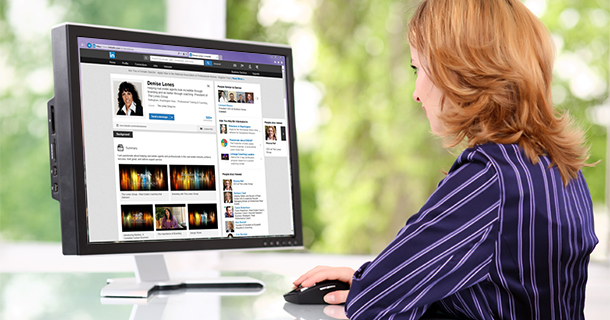 When was the last time you looked at your Zillow profile? How about Trulia? Have you claimed your REALTOR.com profile? Do you even know what is on your LinkedIn page?
While you may not think about the impact of thoroughly completing these four online profiles, I can guarantee you that your potential buyers and sellers do check you out online, and if they see incomplete profiles it is a red flag regarding how detail-oriented you are.
In fact, at the beginning of this year, I issued a challenge to my ENCORE coaching group to take a look at their online profiles and to improve them. We actually went through and graded each client's online profiles, gave them a score, and sent them away from that meeting to make the suggested edits to the profiles. They could send us links periodically and we would give them feedback. By the next meeting, a good percentage of the group had completed the suggested edits and were getting positive feedback from their clients and potential clients.
The standout moment was the $1 million+ listing that resulted from one of the ENCORE members' polished profile within a few weeks of making these changes.
All of our below suggestions are free. You will need to set up an account (or claim your account), but otherwise you should not have to pay a dime to edit these profiles.
FOR ALL PROFILES:
Make sure you are using a professional photo
Make sure your phone number is formatted consistently with your website. Meaning, if your phone number is listed as (555) 555-5555 on your website, make sure it is formatting on all your profiles as such. If you have it listed as 555.555.5555, format it consistently that way.
You can use the same bio on all your profiles and we encourage you to do so.
TRULIA:
You need to be on Trulia because people expect to find you there as a real estate agent. It may not be the first place they look, but if they do and they can't find you there, then that says that you aren't taking your online marketing seriously. If you aren't taking your online marketing seriously, then why should that potential client think you'll do any differently for them?
In addition to the above list, complete the following:
You can include a tagline
Make sure your office information (address, license, phone number) are complete
Add all the areas in which you sell real estate
Add links to your other social media profiles including Facebook, Twitter, Yelp, and LinkedIn
Fill out the "Experience and Skills" section thoroughly
Invite past clients to recommend you through Trulia's Add Recommendations tool.
For extra proof that you are legitimate and to earn referrals and gratitude, syndicate your listings onto Trulia and answer questions in Trulia's Q & A area.
ZILLOW:
Zillow should also be on your list of top online places to claim. You know the old saying, "to catch a fish you need to be where the fish are biting"? Well, the fish are on Zillow, checking out listed properties. You should have a profile there and it should be as complete as possible. In addition to the above list, include:
Your areas of specialty
Your designations
Make sure your listings are syndicated to your profile
Invite your past clients to recommend you via Zillows Request a Review feature. It will provide you three ways to ask a client to review you. I also recommend responding to the review – it shows that extra client care attention.
REALTOR.com:
Anyone who is a REALTOR® and has a current account has an available profile on REALTOR.com. Active accounts have a placeholder profile online along with any designations through NAR. You will need your NRDS number to log in and change your profile. Here are some things that you should include in addition to the list above:
Add your tagline
Add your specialties
Since there isn't a separate section for specialty locations, I encourage you to include this in the body of your bio.
LINKEDIN:
In addition to the list at the beginning, this is the profile that you have the greatest ability to shine:
Fill out your contact information thoroughly
Fill out all your work experience thoroughly. Include a summary of what you did at each work place especially as it pertains to real estate (and include logos)
Include any awards and who granted them (and include logos)
Include any organizations or volunteer work that you are involved in (and include logos). Make sure you include a summary and indicate why you are passionate about the organization.
Fill out your education history thoroughly. Include logos, of course, and indicate any degrees or certifications obtained.
The other cool things about LinkedIn are the "endorsement" and "recommendation" features. Endorsements allow your connections to endorse you for certain skills that are mentioned in your profile with the ease of a few clicks. Recommendations are original written endorsements created by your connections. You can request your connections create recommendations for you through LinkedIn. Always remember to thank people for their recommendations!
Yes, it is going to take time to create and coordinate these profiles. Yes, you may be requesting recommendations from past clients and that may be a source of discomfort for you. Yes, this might be a task that is low on your list, but I am reminded of another agent in our group who tackled her LinkedIn profile with gusto after our class. She was detailed. She added logos and filled out all the information thoroughly. Not a week later she got a call from a potential buyer who said, "I saw your LinkedIn profile and was impressed. I knew I had to call you." That made her stop and wonder how many people had passed her over before and didn't call after being unimpressed with her previous LinkedIn profile.
So take a look at your online profiles with a critical eye! If they are not up to par, make it a commitment to get them polished. If you need help, we can help you with this as well as part of our Mastery program. Want to learn more? Sign up for our next Mastery orientation coming up July 24th. Register here!