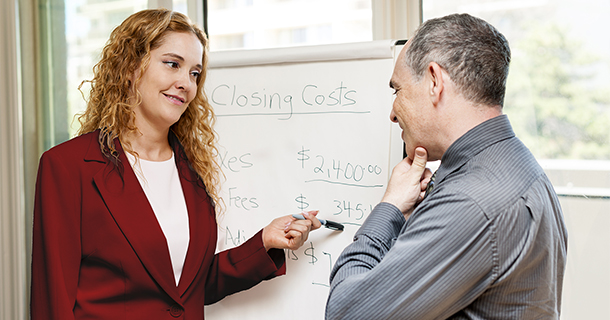 While it is always a good idea to make goals for your business, usually there are – or should be – a set of rules to go along with that. For example, if your goal is to increase the number of referrals you had last year by 10%, you need to establish some rules around what you do for following up with your database in order to stay top of mind to those potential referrers.
But what about rules for your clients? Your rules should also include standards for what you expect of your clients before and during the transaction.
RULES FOR BUYERS
For example, do you have a rule about how you prequalify a buyer? Especially in light of the recent tragedy of real estate agent, Beverly Carter, what rules do you follow to make sure that the potential buyer you are taking out is who they say they are and they don't have a criminal history? On a lighter note, how do you make sure they are qualified to buy? Some agents have a policy of taking a buyer out once who has not met with a lender yet, but before the second time out, that meeting has to have happened and the buyer must be prequalified. What are your rules about prequalifying a buyer?
Here are some other rules to consider:
What about showings? Do you have rules for getting feedback from a buyer or a "Needs Review" once you have viewed a certain number of homes?
Do you have a rule around a geographic area you will show homes in? Do you have a rule about how and when you refer business out when it is outside that area?
If your buyers go to open houses on their own, do you have rules for how your buyers tell the open house host that they are working with another agent?
If the appraisal comes back low, do you have a rule about not contributing a portion of your commission to help make up the difference (yes-this happens)?
Without rules for buyers, you may be losing your precious time or money simply because you don't have rules that you and your buyers must follow. Think about your buyer process and where the challenge areas are. Then make a rule for those!
RULES FOR SELLERS
What are your rules for taking a listing? There are many considerations in this category:
Do you have a rule for types of real estate you won't sell?
Do you have a rule for how much above market you are willing to price a home?
Do you have a rule for how long a home will sit on the market with no offers before the seller must do a price reduction? And do you have a rule for how much of a price reduction that will be?
Do you have a rule regarding what shape the home is in when you take the listing – and how you expect the seller to maintain the home during the listing?
Do you have a rule around pets in the home when the house is listed?
Do you have a rule around setting the stage for a showing (lighting, heat, etc)?
Consider your process for both buyers and sellers and think about how you can change some of the more-problematic situations that come up with a few rules. Once you have a rule, it is easy to determine if an activity is breaking that rule or not. However, if you don't have a rule, then you are probably wasting a lot of time and energy trying to make something work in your business that isn't or you are using your energy to solve a problem that is probably not your problem to solve.
For example, let's say you have a seller who has a big dog and they aren't sure what to do with it when the house is listed. If you don't have a rule around having pets in the house, the you might be trying to solve that problem for the seller every time you encounter a new seller with a dog. However, if you have a rule, then you might have given this enough thought to even have a page in your seller package around what to do if you have pets in the house when you have a listing and list out a few options they might want to consider. Then you have put the ball back in their court, but in a way that indicates that you understand their problem.
I encourage you to think of just one thing in your business that needs a rule right now. Make that rule. Write it down or save it in a Word Document on your desktop. Then the next time this particular challenge comes up, take a look at that rule and apply it. You will be amazed at the time and energy – and money – you save with some rules in your business.
I would love to hear about your new rule! Please leave it in the comments below or send me an email at [email protected].
Happy rule making!