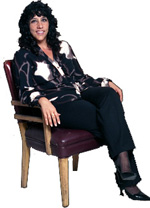 Q:  Denise, you talked in your Safari class about making rules and I have made a few rules. One of them is a rule around how far out I will take the buyers who are looking for homes. I have buyers right now who want to look at homes that are more than an hour outside my designated area, but when I tried to tell them that I wanted to call another agent, they wouldn't hear of it. What do I do?
A:  I applaud your client care attitude here and your clients are lucky to have you as their agent. Since you are new to making rules, you need a little bit of help saying no to these folks. I like to call this my "no" sandwich where you have two yeses that surround that no. Here is how it could work in this situation:
"Clients, I am so excited that you have decided to look in the _________area. As you know, I specialize in real estate about an hour south of where you want to look. Although I would love to show you homes up there, I am not an expert in that area and it would be professional negligence for me to effectively show you property because I don't know enough about the area to give you my professional opinion. However, I like the relationship we have established and I think a good solution would be for me to contact an agent in that area that would be a good fit for you. I would be happy to accompany you on the first tour with that agent, and then you will feel more comfortable working with that agent."
Saying no, but also saying yes, is a great way to gently institute your rule. The other key is to explain to them why it is in their benefit that the rule is followed.