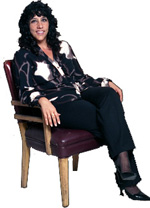 Q:  "Denise, it is the second week of the year and I feel like things should be moving for me already! What should I do?"
A: First of all, relax. It is the 8th. People are just getting back to their routines and if you have some folks who are in your pipeline that aren't getting back to you, take a deep breath and take some action. Here are a few ideas:
Compile a report containing printouts from your MLS on properties that have been listed, pended, or sold in the last two months or so. Mark these printouts up with notes on each property that pertain to your potential client's buying or selling situation.
If you have not done a mailer to your database in December get one out there now. Remember, I wrote my 2015 predictions last month and have a version ready for Club Zebra PRO members to send out. If you are a Club Zebra PRO member, you can access that here: http://www.thelonesgroup.com/customer/vault.asp?op=item&vid=2337 . If you are not a Club Zebra PRO member but want to learn more, click here: http://www.thelonesgroup.com/customer/signup.asp
I have written about Annual Client Reviews a lot over the last few weeks and if you haven't taken that step yet, I urge you to do so. You can read more about that here: https://www.realestatezebrablog.com/2014/12/04/connect-with-your-clients-with-an-annual-client-review/
Now is the time of year to really solidify those relationships so don't be afraid to pick up the phone, make sure your clients have all the information they need to make good real estate decisions.