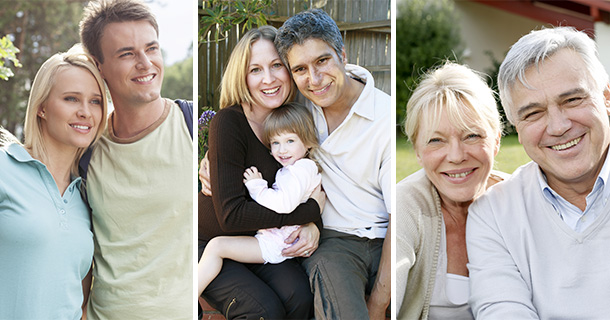 As a real estate professional your job is to know your market and to know your clients. Understanding the needs and preferences of buyers today is critical in providing exceptional service to your clients and making their home-buying experience an effective and pleasant one.
The two buyer groups that are dominating the buyer market pool are Baby Boomers and Generation X with Millennials coming on strong to the home buyer scene.
Baby Boomers born 1946 – 1964
Generation X born 1965- 1980
Millennials born after 1980
Knowing who you are working with and their preferences will speed up the process and make it tailored for each buyer. Here are some key differences between the generations that you should keep in mind:
What they are buying:
Baby Boomers are buying transitional housing which means they are either moving up to make space for parents or moving down to accommodate less space needed because their kids have moved out. They are not afraid to spend money on housing – they want what they want and are willing to pay for it. They are easy to work with provided you deliver the type of product they are looking for. Do not waste their time showing them things that "may work". They are experienced buyers who are extremely visual so it is important to ask them to show you what style of home they want with pictures. You can save yourself and your Baby Boomer buyer a lot of time by showing them house and room design styles through a site like Pinterest. I encourage all my clients to put together a Pinterest viewing site for their clients that represents different styles of homes so you can begin to understand what your buyers want. Remember the key word for Baby Boomers is VISUAL!
Generation X buyers usually have already owned their first home and are now ready to sell that home and move up. They are typically moving from a small property in an urban location to a larger property in the suburbs. They are expanding their families and need more space. Space and good value are the key driving points for the Generation X buyer. They are practical and realistic when buying and unlike the Baby Boomers they understand that they may not be able to get everything they want and they are willing to make compromises. They are tech savvy and want information, comparable data and detail.   They want to know as much about the surrounding area and community as they do about the property itself. Like the Baby Boomers they know what they want but they are more willing to make compromises than the Baby Boomers are. Generation X buyers value information and data. The key word for Generation X buyers is DATA!
The Millennial buyer is willing to compromise everything for great location. The Millennial buyer cares most about the proximately of their home to their work, their friends, and their community. When working with this buyer it is essential to know transportation routes, traffic resource websites and community information. They are a digital generation and they are on the move constantly. They want to know about restaurants, shopping, parks, walking routes and even schools. Don't think just because they may not have children that they don't care about this because they do. They are an informed generation and they want to know as much about everything as possible. When working with Millennials you need to be able to tell them more than what can be found with a simple Google search. The key word for Millennials is LOCATION!
What they don't want in a real estate professional:
Baby Boomers don't want to be pushed to make a decision. They understand the sales process and they have bought and sold before. They are looking for concierge class service and real estate knowledge.
Generation X buyers don't want you to interpret information for them, they want to do that themselves. They also don't want you calling and hounding them, they will utilize your services if and when you earn their trust.
Millennials don't want to be shown homes that are not within the criteria they have given you. Their number one complaint is lack of communication. To them communication means listening to specifically what they have told you. Listen intently when working with Millennials.
Each generation has their own specific needs and in order to be successful in today's ever changing real estate market you need to pay very close attention to the needs of each generation.