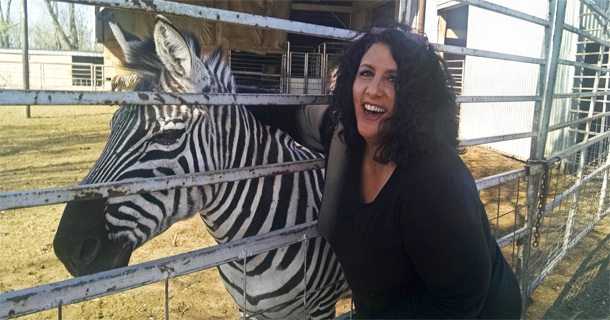 — Make sure to scroll down the page
to see more photos from our trip! —
I have always loved zebras! Ever since I was a little girl I can remember my fascination with and love of zebras. Their unusual stripes and aloof demeanor always intrigued me. I loved that they looked like horses, but were a little stockier and incredibly more exotic. Over the years I have had the pleasure of being able to get my equine fix because my daughter is a competitive horseback rider, but I have never had enough of my zebra fix.
Years ago my husband took me to a drive through wild animal sanctuary where we were told NOT to get out of our vehicles around the zebras because they were mean tempered. That has always bothered me as I felt those zebras were portrayed negatively. Zebras aren't mean – at least not in my mind. So, without thinking, I jumped out of the car and began feeding the zebras… They were wonderful and amazing, and everything I thought they would be! But I had such a short time with them because my husband was freaking out that I was breaking the rules. To this day that is one rule I do not regret breaking! Other than that, I have not had the pleasure of spending any time with zebras. Enter Shauna, my company CEO and super woman of the Universe…
On a recent speaking trip Shauna surprised me with a stay at Hedrick's Exotic Animal Farm in Kansas. Hedrick's is both an animal haven and a bed and breakfast and is owned by Joe Hedrick and his wife Sondra. Joe was a rodeo clown for many years, and his wife Sondra was one heck of a barrel racer.Now together they breed exotic animals and  provide a unique retreat for animal lovers like me. So, Shauna gave me a chance to be able to stay and play with the zebras, and to say I was in heaven is quite an understatement.
As you drive into Hendrick's animal farm you immediately feel that you are somewhere very special. You see zebras frolicking with camels, giraffes, and ostriches. It is truly a sight to behold! There are so many different kinds of animals I can't even begin to list them all here.
And the amazing thing about Hedrick's is that you get to personally interact with all the animals. From the moment I arrived I was able to interact with so many incredible wild animals. I must have spent 20 minutes just giving this one zebra a back rub. And to have a tall, majestic giraffe eat a sweet potato stick right out of my mouth is something I will never forget! The big beautiful eyes and lashes on those giraffes is something you need to see to believe.  And the kangaroos were especially gentle and sweet. And the zebras were even more beautiful than I could have imagined! That day Shauna helped me to fulfill the 1st thing on my bucket list … spend a day interacting with zebras. Check!!!
Now for the worst day of my life … After spending some very special time with the animals Shauna and I headed into town for dinner. Without going into any detail and giving out too much information, both Shauna and I ended up with food poisoning after eating at a restaurant in the area. My 3 day zebra extravaganza turned into a stay in the local hospital… I was so sick I couldn't even walk out to the car that took me to the hospital. I never was able to return to Hedrick's, but the time that I did spend there will be forever engraved into my mind. The animals were so special, but the people of Hedrick's is what really made the stay so special. What a pleasure it was to talk to Joe about his mutual love of zebras and to hear him talk about breeding wild animals. To the lady that helped me down the stairs and to the car I want to say – thank you so much! To my evening animal feed tour guide, thank you for educating me on all the different animals. To Shauna, what can I say … thank you from the bottom of my heart! And to all the zebras that allowed me to rub them, pet them, kiss them, hold them, and mostly just adore them – thank you for proving to me that you are indeed the most wonderful animal on the planet!
So, while I did end up with the worst food poisoning of my life, I consider it kind of like childbirth… Once the pain and ordeal is over you have a wonderful gift to bless you for the rest of your life. My time at Hedrick's will be a wonderful memory that I will cherish forever.
Check out the photos of our great time at Hedrick's Exotic Animal Farm: