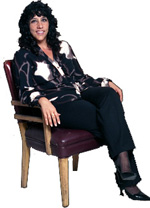 Q:  Denise, I have an open house coming up next weekend. This has been the first open house I have done in a few months because the market is so hot. I know I am going to have a flood of people. What tools do you recommend I bring?
A:  Oh, there are so many great tools to have at an open house that can help you stand out! First and foremost, have a welcome sign at the front door which indicates the visitor should come in. Once inside, I recommend having not only the flyers for the home, but a home book along with information about the neighborhood and the community. I also have market stats – information on the competition, pendings and solds – information that compares this home to the competition.
You may want to read my article on preparing for an open house here: "Open House Season is Open!". It is chock-full of great information on building a collection of open house materials.
However, my absolute favorite open house tool is my open house book. Picture this – you are at the open house and are talking with a potential buyer. What if you had a packet to give them that outlined similar properties that are on the market? You could indicate that you have provided the information on those other properties in the book, they should drive by and take a look, and if they wanted to take a look inside, you are done with the open house at 4:00 pm and you would be happy to meet with them.
This is a great opportunity to connect with buyers. Do that extra work and you won't be disappointed!
If you want a template for 37 different open house templates ready to go, including the open house book, take a look at my Unforgettable Open House System!