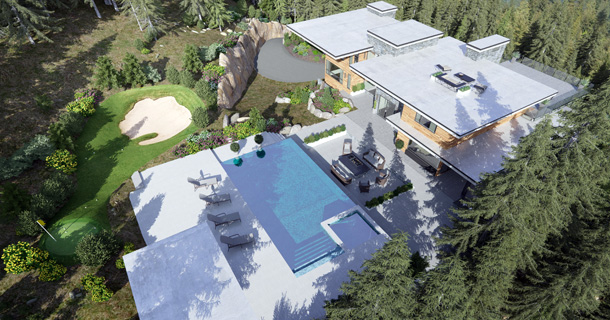 I have seen a lot of marketing during my years in real estate. I have seen bad. I have seen good. I have seen exceptional. Recently I came across one of those exceptionally-marketed properties in Whistler British Columbia. I had the pleasure of talking with the real estate agent and learning exactly what he did to show the incredible potential of this property to potential buyers and he agreed to share this with you.
Every once in a while a property comes along that has extraordinary potential – that diamond in the rough – which can be difficult for the average buyer to see. But the new state-of-the-art 3D design programs allow the listing agent to create a visual of that potential to get buyers excited about the possibility of owning something so remarkable. Potential buyers need visual help.
When marketing an exceptional property with potential you have to first think outside the box to determine that potential and then invest in a creative visual marketing plan to get the word out. That plan may include virtual 3D renderings, panoramic photography, video, virtual tours, and even extensive print marketing. An aggressive social media campaign targeting high income individuals is also an essential part of an aggressive marketing campaign which should be targeted to both potential buyers and real estate agents who sell that type of property.
Below are some of the most important elements of a potential property's marketing campaign:
THE VISION – The listing agent could have chosen to market this piece of property simply as a land investment which was buildable. He could have indicated that it could sustain a 4,500 square foot home on 1.16 acres with a 10 minute walk to Whistler. But with an architect and builder involved, this 1.16 acres of woods and rocks became a destination for that luxury buyer who wants to be close to the wintery action. Creating 3D renderings of the potential space, including a waterfall and glass elevator make this acreage obtainable for most buyers because now everyone can understand the potential. Whether that is the final design of the home or not, a buyer can now understand the view, the elevation, and the possibilities.
VIRTUAL PHOTOS – The star of this marketing campaign is the 3 dimensional photo collection. Imagine trying to market this property without these photos. How would you ever be able to express the uniqueness of this exquisite piece of land? The setting is majestic, the view is panoramic, it truly is in close proximity to Whistler Village, and it has luxury dream home potential. You simply could not express this without high-impact images and 3D renderings.
While these images are an investment, remember that great investments can yield a high return. I have no doubt whatsoever that the buyer for this property will come from seeing these images and realizing that they cannot live another day without this incredible home. They want to wake up to the beautiful view and serene setting. They want to soak in the views and relax in their spa like retreat. The buyer could never have gotten this emotional response from simply looking at a piece of land for sale. These images are exceptional and the marketing on this property is highly desirable.
In addition, this agent knows that the buyer for this property may not be currently living in Whistler Village. This potential buyer may be browsing online right now in Los Angeles or Miami or even Dubai. When the buyer isn't close enough to view the property easily…
…the power of great online photography cannot be overestimated: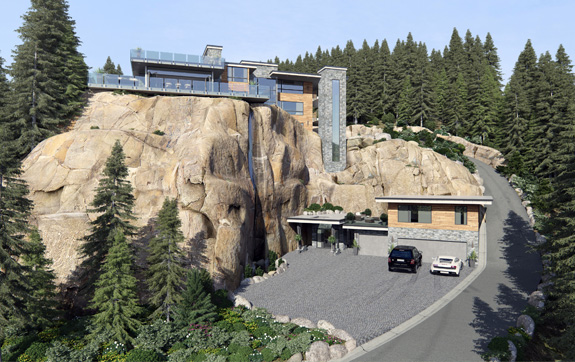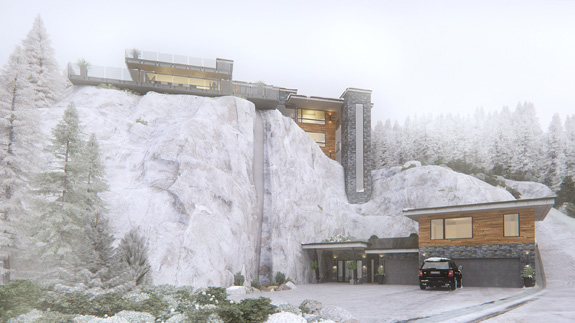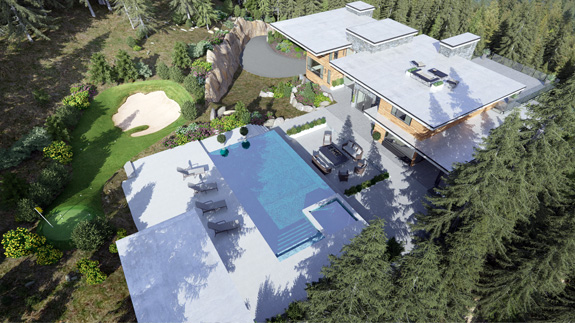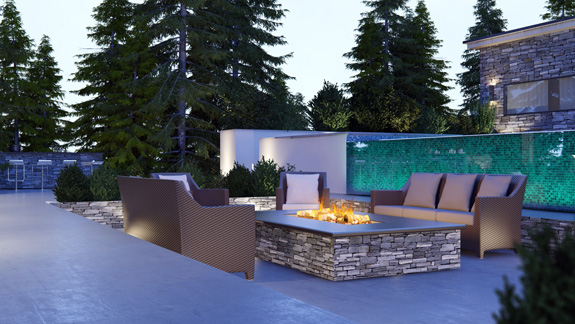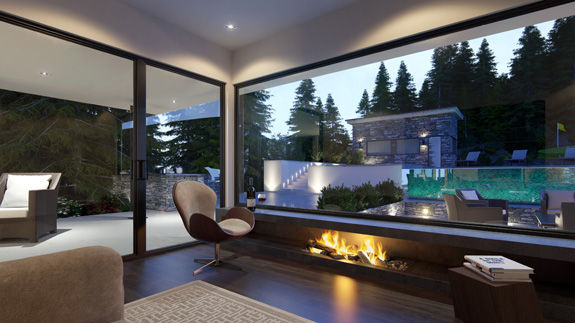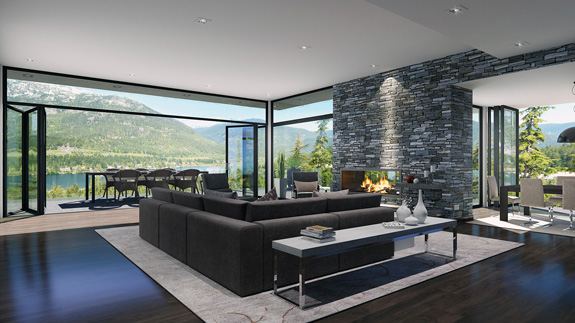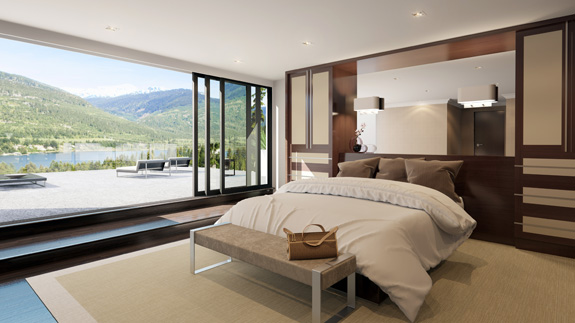 You can see from the photos that these virtual 3 dimensional renderings bring out the very best in the potential for this exquisite property. When marketing unique and once in a lifetime properties never cut corners on your marketing.
VIDEO – A great video takes you right into the home, it makes you feel like you are there, as if you are actually walking through the property and interacting with it. This particular video evokes emotion as it takes you through the home. It feels as though you are right there. If you are going to marketing exceptional properties you must be prepared to invest in exceptional marketing.
Video is a fantastic investment: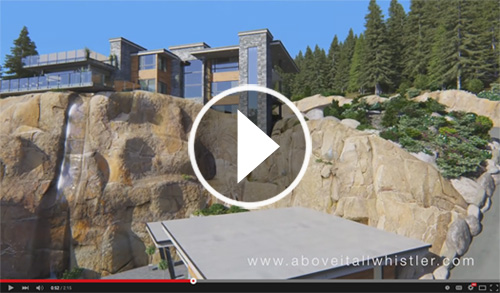 THE DESCRIPTION – Another critical element when marketing a property like this is to tell the story of the potential. In this case, the listing agent paints a picture of the relationship between the land and the builder who will be crafting the masterpiece home. The more detail the better. Also give options for customization, buyers may really like what they see but they may need some changes to fit their exact lifestyle requirements. Here is an example:
This amazing property located at 3431 Panorama Ridge in beautiful Whistler B.C. is a rare estate size lot of over one acre perched on the side of Whistler Mountain. The location is central to Whistler Village and is in the sought after Brio neighborhood. The views are spectacular, the setting is majestic and the privacy is unsurpassed. This property has it all. The home has been designed to take advantage of the breathtaking views and the floor to ceiling windows bring the outdoors in. The home has many upgraded features including a private elevator, infinity pool and hot tub, this 8,000 square feet home is one of a kind. The home's builder Carmelo Mattiazzo is a well-respected Whistler builder, he has been building in Whistler since 1979. His vision for the property was limitless and his experience in both residential, multi-family and commercial guarantees a very special custom home. Carmelo also encourages a further customization of the home for the new buyer by allowing them to choose their finishings and to collaborate on design preferences.
THE WEBSITE – When marketing a property of this caliber creating a custom website that is solely dedicated to showcase the home, the area, and the special features that come with this home is a must. There simply isn't enough room in the MLS for the elongated description, photos, and video.
Here is the website dedicated to this listing: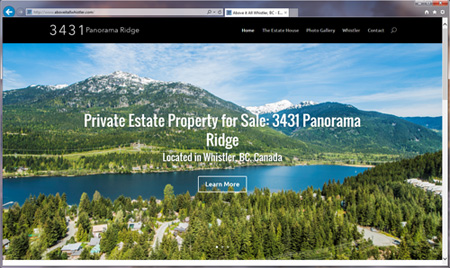 When you look at this website it is clear to see that the 3 dimensional images are of the highest quality and they give the buyer a realistic vision of the incredible potential of this extraordinary property. A custom website is not only essential but it allows for complete focus on the property and it guarantees the property will not get lost in a sea of other listings. In addition, a custom website gives potential buyers an easy spot to come back to and dream.
Don't be afraid of exceptional potential properties, but you do need to be prepared to invest time and resources into painting a picture for a buyer. I want to thank listing agents Pietro Nardone and Steve Shuster of Sutton WestCoast Realty with sharing this exceptional property and marketing with us!