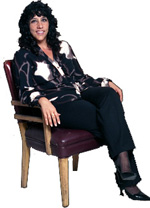 Q:  Denise, the new cars for the year are coming out in a few weeks. I have been longing for a new car for a looong time! However, I am torn because the car I want doesn't have enough legroom in the back for my passengers to ride comfortably. It seems, though, that buyers usually want to ride in their own car anyway. What do you think?
A:  Well, if you get the car with the limited legroom, then you will almost guarantee that buyers aren't going to want to ride with you. If that is your goal, then you can certainly proceed. However, think about what you really want from a client care point of view. I know some agents who find that car time with buyers very helpful in hearing their comments about a property when they are analyzing it afterwards. In addition, you may still run into buyers who do want to tag along in the car with you. Will you be comfortable making apologies for your lack of legroom?
This really comes down to defining how you want to do business. I know there are some agents who are probably cringing at my answer, but I believe you can run a successful business without working on Sundays. You can turn off your phone. And you can buy a car with a small backseat.