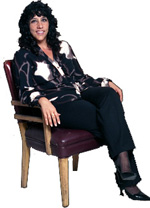 Q:  Denise, I have lost 3 listing presentations lately. Am I in the wrong business?
A: Absolutely not! Just because you didn't get the last 3 listings doesn't mean you are no longer skilled and needed. Sometimes you just don't click with certain sellers and that is okay.
Other times this could be a clue that you are missing something in your presentation that the client really needed. Recently I met with an interior designer who came very highly recommended to me. But I was underwhelmed with her presentation because she spent a lot of time talking and very little time showing me what she could do for me. I am a visual person and I need to see samples and examples.
Perhaps the sellers that didn't hire you are also visual and need more than just a verbal presentation. Bring props and samples of what you can do for them. Show them your marketing and bring 4-color beautiful flyers. Put your marketing materials in their hands and watch their eyes light up! This could be the best thing that happened to you because it is forcing you to reassess your presentation, and we all need some fine tuning from time to time.