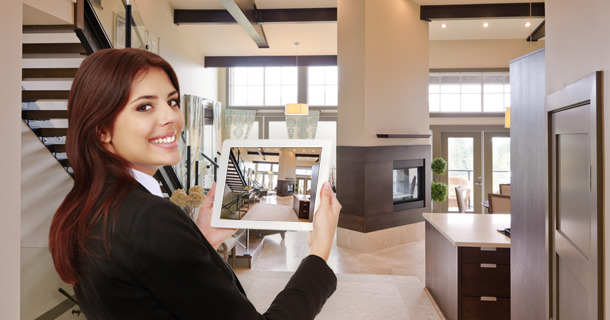 Do you have five minutes? I encourage you to take this time to do a quick tour of your MLS and review the quality of home photography that is passing as "adequate" to someone's definition (not mine!) this very second. While some agents do an amazing job enlisting the help of a professional photographer, many others make do with the cameras in their phones, and some of the photos are truly horrific.
My favorite gift I received this past Christmas was a 2016 daily calendar of bad real estate photos with hilarious captions. Turning to a new day reveals another bad, awkward, or truly terrible real estate photo. To date, my favorite includes an otherwise-vacant living room with a kayak seemingly staged in the middle, including a person – yes, a real live person – sitting in the kayak. I am not sure what this agent was trying to achieve here…
Is the agent trying to get across the message that this is a home for outdoor living or perhaps the potential buyer needs a flood insurance policy before buying? Only the seller and the listing agent can know for sure, but the fact that a photo like this represents what some agents consider adequate should be a concern to any agent who is concerned about the reputation of the real estate industry.
Unfortunately, bad real estate photos are commonplace to real estate web sites. Great photography is few and far between and when you see it you appreciate it.
Since you are reading this blog, I assume you are an agent who takes their business seriously and either enlists the help of a professional photographer or spends some time on their photography, making sure rooms are well-lit and decluttered as possible before the photo shoot – and doesn't have a kayak in their staging arsenal in the event there is a lack of furniture in the living room.
I personally feel that if an agent put more energy into capturing and presenting great photography they could increase their income dramatically. People are very visual and when you walk into a seller's home for a listing presentation, having a prop to visually show them why your photography is not only adequate, but great and effective. Demonstrate to them how they will benefit from the time and money you invest in presenting their home.
As an agent, I would start by explaining to the seller that the marketing of their home begins with great photography. According to the National Association of REALTORS® 2015 Profile of Home Buyers and Sellers, 92% of buyers have used the internet to search for homes whether that be searching on an agent's website via an IDX feed, looking at listings that an agent provides via email, or through a national company such as REALTOR.com.
It is essential that the photography online is of the highest quality if you expect potential buyers to flock to your seller's listing to see it live. A great marketing campaign always starts with good photography and this is an opportunity to give yourself an edge if professional or polished photography is a part of your listing marketing plan.
I highly encourage all my agent clients to add one prop to their listing presentation collection (hint, it is not a kayak). A large photo portfolio book will give you a point of difference and will showcase the importance of this step in creating an effective marketing campaign. Don't just rely on your voice and a few small samples. Blow those photos up to 8 x 10 and showcase them in a book that is separate from the rest of your materials.
The process is simple – find a wedding-style photo binder that showcases 8 x 10 photos. Then either use photos from a listing that you had in the past (with permission from photographer if need be) or photograph your home or a friend's home. Then have the photos enlarged to 8 x 10 and then display them in the book. This type of photo book clearly sends the message to the seller that the home photography is a critical element of the marketing plan and you know how to deliver.
Below is an example of this photo book:
Your seller's home photography needs to stand out and a listing presentation photo book prop will help you stand out with your sellers. Try taking the time to put a little more emphasis on the photography part of the listing presentation and elevate the quality of your business.