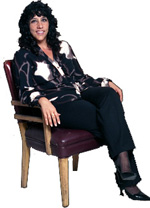 Q:  Denise, I just got a referral from a past client and I feel like smacking myself on the head because I just realized I don't have a system for thanking my past clients who refer me business. I thank agents who give me referrals. I thank buyers and sellers when they close with a closing gift. But in ten years, never have I implemented a system for thanking my clients. How do I fix this mess?
A:  First of all, I want you to congratulate yourself on realizing this is a system you need and I don't want you to feel bad about the past. The past is the past, so just focus on the future, create a system that's easy for you to follow, and then implement it!
You don't need to do anything elaborate. Frankly, a thank you note or a phone call along with a little gift certificate is perfect. The gift certificate can be for coffee, for a restaurant, hanging flower basket, movie tickets, etc. You can also send flowers, a pie, etc. It doesn't have to break the bank. Depending on your market $20 to $50 is entirely appropriate. But the key is to define what you are going to do and make it easy for yourself by having the gift certificates, phone number or website for ordering the gift ready to go.
Furthermore, when I received a referral from a past client, I always provided a check-in to the client to let them know that I was taking care of their referral. I didn't divulge any information I shouldn't have, but that extra step helped build their confidence and feel good about their referral.