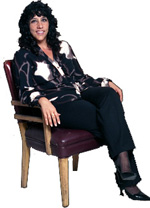 Q: "Denise, I have been getting some responses from my farm area and have even had a few closed sales. I am thinking of expanding to a larger area. What do you think?"
I think that is a great idea! Of course, check to make sure the expanded area has a good turnover rate (about 7% per year depending on the average turnover in the area) before committing to it, but this is a great example of smart expansion of your lead generation efforts.

One thing you may want to consider is utilizing Every Door Direct from the Postal Service which can reduce the cost of mailing if you are mailing to a large area. Basically this allows you to mail to everyone on a postal route for a very low rate. The pros are that the mail pieces do not go through the machines, so they are delivered in better shape than if they had and, of course, the price. The cons are that you have to mail to everyone on the route. The routes are generally between 500 to 1000 homes which means the printing costs will be higher than if you were printing perhaps 300 postcards.
If you would like to look into this further and investigate available routes, go here: https://www.usps.com/business/every-door-direct-mail.htm