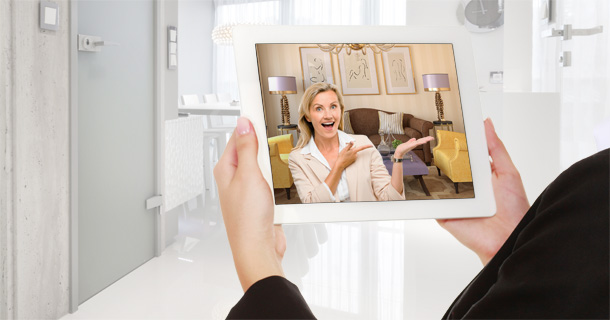 I have been talking about the power of video in a real estate agent's business for years. However, it seems that the nervousness most real estate agents feel about being seen on video or the unknowns of the production side holds them back. Whatever has kept you from fully utilizing video in your business has to be addressed in order to tackle this powerful client care and lead generation tool.
Imagine you were a seller and had hired an agent to list your home. Would you be more impressed with an agent who emailed a weekly marketing activity report or would you prefer to hear from the agent directly with a custom created video message for you? If you are still resistant I would challenge you not to make a snap decision and default to choosing email until you had asked for feedback from those who have received video messages. The positive feedback from those who are receiving custom video messages is overwhelmingly positive.
A quick video update that is emailed is so simple to do. The first step is to become friends with your phone and learn how to take quick short videos. Yes, you will need a tripod of some sort. Yes, you will need a service such as Bomb Bomb which can upload your video to their servers and allow you to email out an email-friendly embedded video. No editing required! The result? Your sellers can now see your face and hear your voice inflection when you explain what the activity has been like on their home over the past week. You can assure them that you are working hard for them, you can give your sellers updates on their showings, review the marketing you have done for them, and what you plan on doing this upcoming week. It is a way to provide a higher level of service that is more personalized to each client.
Now, imagine you are working with a buyer who is actively looking to buy now. Can you imagine how impressed they would be when they received a custom video message from you talking to them about new listings that have come on the market and updating them on what you are doing to search for homes? Instead of sending them a bunch of emails with links to listings, instead get them excited about getting into homes by getting out in the field and bring the real estate market to your buyers.
Make a video of yourself (perhaps with a selfie stick) standing in front of three homes you are previewing and review the home for them. They will be super impressed knowing that you are out in the field right now working hard on their behalf. You aren't just sitting at a desk emailing them more listings to look at that never quite look like the pictures. Trust me, they will show their friends, their family, their co-workers, and almost anyone that will listen. This will impress the heck out of those buyers that are eager to make a buying decision. Email is great for communicating quick facts and ideas, but nothing is better than video for bringing the real estate market direct to your clients.
You can also utilize video to send your current buyers and sellers updates on their pending transactions, review how an open house went, how a specific showing went, and even as a personal message when you are emailing over a custom report or a CMA. Video is a great tool to get clients as excited about taking the next step and it is a great way to build that relationship.
Utilizing video sets you apart from everyone else and has a powerful positive impact on your clients. I encourage you to implement video in your business this week!