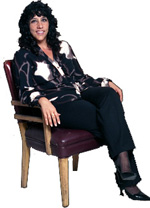 Q: "Denise, it seems like every day I read something in the news about how so-and-so company was hacked and now their customer database is in the hands of spammers. What can I do to keep my database safe?"
Nothing is going to keep your database completely safe, but there are definitely things that you can do to reduce your risk. For example, if you're using an online company to help track your database, find out what they do to safeguard it and make sure that your account password is not just a good one, but that it's a unique password that you aren't using for an account somewhere else.
Now if you are keeping your database in something like Goldmine, ACT, Microsoft Outlook or even in a spreadsheet, good passwords make good sense here too. For example, you can password protect your spreadsheet or client database program, and you can have a good email password too. Don't store your contact database in a place online that you share files from – like Dropbox. If you aren't careful, then it's too easy to accidently share the whole folder that it's in.
Finally, have a backup plan. Your database took time and effort to put together. Get an automatic backup service like Carbonite, Back Blaze or Crashplan. These inexpensive online backup services ensure privacy and peace of mind for your valuable computer files. They are easy to setup and require no attention from you afterwards. Computers break. Disasters happen. That doesn't mean you have to lose your database and other important files. You just need to take a moment to plan ahead.