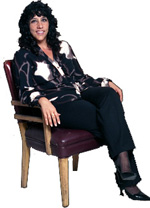 Q: "Denise, I am thinking about hiring a contractor to do a little remodeling in my laundry room. If the contractor does a good job, I would have no problem recommending him or her to my clients. However, I am reading through the online reviews of some of my top picks and each has one review that is unfavorable. They all seem to have at least one unfavorable review among many good reviews. I just don't want to make a mistake!"
Think back to all the clients you have worked with over the years. I am sure you can think of at least one person who would not give you a favorable review right now despite all the things you did right. Their unfavorable opinion may not have even stemmed from something that you had any control over. You may even have a review on one of your online profiles right now! If you do, my recommendation would be to respond to it if the website lets you.
But now let's figure out what to do about your contractor. I definitely would ask for recommendations and I would indicate that you will be checking them out online. It might be that they volunteer information about the negative review and explain what happened before you even have to ask. That is good and will give you additional information with which to evaluate the situation.
If you see one bad review amidst glowing reviews and the contractor is willing to explain what happened, then I would not be worried unless there truly was an ethical or professional issue. But do your due diligence and review the list in this week's Zebra Report.