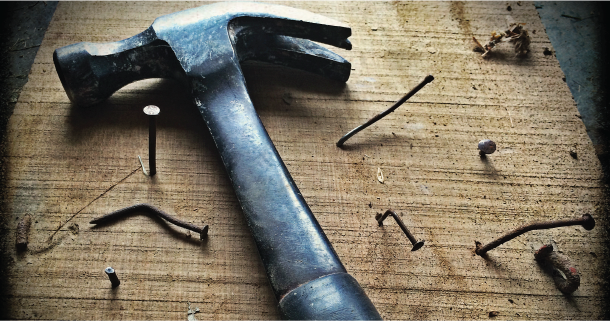 Home renovation shows on TV are made out to be exciting, rewarding and easily summed up in a half or full hour. However, there are many things that you don't see behind the scenes that can be very problematic during a remodel. Here are 10 of the most common mistakes homeowners can make when they take on a renovation project:
No Preparation
A home renovation requires an incredible amount of preparation. Most homeowners focus on the future design they want but the most important part of the renovation is in the planning. Making a realistic timeline is essential for any remodeling project. I have seen many projects severely delayed because the homeowner wasn't aware that the custom kitchen cabinets they wanted took 12 weeks to build.
Bad Measurements
A homeowner should NEVER rely on their own measurements when doing a renovation. Have your home or the area you are remodeling professionally measured before you ever begin. Many kitchen cabinet companies require that they do their own measuring to ensure accuracy. Utilize these services to ensure an accurate measure and to save money.
Avoiding Permits
Many homeowners neglect doing their research to find out what they need permits for. Before you ever begin a project check with your local building department to find out what permits you will need for your project. If you don't get a permit and something goes terribly wrong due to bad workmanship your homeowner's insurance will not cover you.
Ignoring Safety Requirements
I have personally been involved in many remodeling projects. I can think of at least six incidents where something went wrong and someone was injured. Luckily all but one were minor injuries, but they could have been much worse. The worse accident I witnessed was when a contractor I was working with on a commercial building cut off a large part of his finger. The sight of the blood almost made me pass out! I had to rush him to the hospital because our first aid kit was not going to be enough to handle this incident. However, I happy that I had a kit with supplies in it to at least handle some of the blood loss until I could get him to the hospital. You need a first aid kit if you have anyone at your home doing any kind of renovation and it needs to be equipped to handle a number of injuries. Don't forget about preventing accidents! Make sure you have safety goggles on hand and gloves and boots – these are essential safety items.
Not Setting a Realistic Budget
This is by far the most common mistake home renovators make. Even when you have a budget, pad that budget for overages. There will be overages! A budget can never be exact because you never know what you will find once you do the demo.
Doing Your Own Demolition
When you watch renovators doing demo of their project on TV it appears to be some exciting event that marks the beginning of this fantastic journey, but doing your own demo without expert guidance is like flying a jet with no training. What if you hit a live wire when you are bashing that wall down, or a pipe full of water because you failed to turn the water off?  Don't even think about removing anything from your home without professional guidance by your side. It is not just about the electric and the water, but what if you are bashing down a wall full of asbestos? This is an area for the professionals. If you want to help, be supervised, but never do this on your own.
Doing Too Much Demolition!
Home renovators start doing demo and then stand back and think, "Wow this wall looks great opened up!" So they keep going. Soon they open up a support wall without realizing that they will just have to put that wall back up again. Too much demo will cost you a lot of money if you don't know what you are doing.
Electrical Neglect
A very common mistake made when renovating is not upgrading your electrical panel. The electrical panel needs to be up to code and before you do any kind of renovation or ever think about starting demo you need to walk the job with an electrician to make sure you have every detail handled before you ever begin removing walls. Lighting is one of the most important elements in a home renovation; it can make or break a space and it can change the mood of a room. Remember, there are three kinds of lighting: accent lighting, task lighting and mood lighting. Most people focus only on task lighting and forget the other critical lighting types.
Overloading on Trends
When you are doing a renovation of any kind you have to make sure that you don't go too trendy. While it is important to choose things that you like, you can't make the home so trendy that you either have to keep updating it or it makes it hard to resell. You need to make sure that what you do can stand the test of time.
Going Cheap on Your Materials
The old adage that you get what you pay for is especially true when you are renovating. Important things like electrical and plumbing are things you just can't scrimp on. Save money on trendy tile, but never scrimp on the important stuff. Also, hiring skilled labor and paying people for what they are worth is the most important part of your renovation. If you are going to do it, do it well and if you can't afford it then wait to do it right, you won't regret it.
Doing a renovation requires a major time and money commitment. It is like running a business. You need to be prepared, you need to handle a team of people working on your home and you need to be patient and on your best behavior with all your trades and your contractor. If you decide to be your own contractor, you better know what you are doing.
Having done so many renovations on so many different kinds of properties, it was hard to pick only ten common mistakes, so stay tuned! I have more words to the wise on what to watch our for when home renovating.