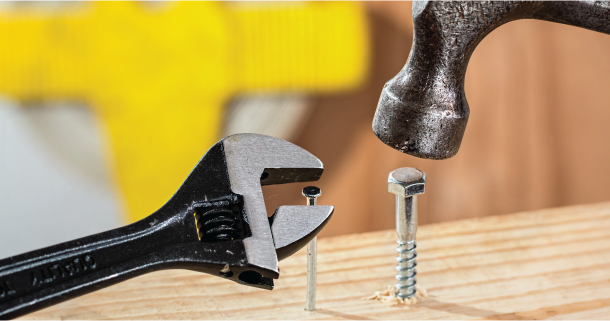 Last week, I covered ten of the most common mistakes homeowners can make when they take on a renovation project.
Here is the rest of my list!
Failing To Anticipate Chaos
When you are renovating you can expect that something will go wrong.  Timing deadlines often can't be met because when one things go wrong there is a domino effect on everything else.  Expect it, work with it, be patient and DO NOT get angry at your contractor or the trades.

Hiring The Wrong Contractor
This is probably THE BIGGEST MISTAKE that you make when renovating. Your contractor is the orchestra, the captain of the ship, the pilot. Don't scrimp or rush when choosing this person.  Make sure they are bonded, licensed and insured.  Check with the Better Business Bureau and check with ALL references.
Ignoring The Style Of Your Home
Before you start a remodel you have to consider the overall style you want to go with and how you marry that with the original style of your home. If you don't do this then your remodel will not flow and you will regret it later.  By giving this A LOT of consideration in the planning you can tie the styles together.
Taking On Too Much
Know your limitations. Don't decide to tear out a bathroom if you can't live with the mess that you will have for a while. Are you comfortable with just cosmetic updates or do you dream of taking down walls?   Remember that a renovation has MANY moving parts and you have to be able to keep up with all the changes that can occur on a remodeling project.
Not Using An Expert When Replacing Windows
When you touch the exterior of your home and you replace or remove a window, you are the disturbing the home's building envelope. This is your protective cover to ensure that moisture, wind and rain doesn't do damage.  You need to work with an expert in this area because even though your windows may look amazing, if they leak you will create a much bigger problem for later on.  Do it right the first time and don't be afraid to interview a few specialists to see what their process or method is for making sure your windows are weather proofed.
Using The Wrong Paint Or Paint Finish
It is common for homeowners to test paint colors but rarely do they test paint finishes or paint brands. Different finishes can completely transform a room.  The challenge is that many homeowners rely on the local paint store employee to tell them what finish to use. However, every project requires its own custom finish.  For example, one might find flat paint for ceilings and perhaps some walls while semi-gloss might be used for bathrooms. Gloss may be found for trim. However, there are NO rules when it comes to paint, there are however personal preferences and paint finishes that hold up better in certain rooms.
Overbuilding For Your Area
If you are doing a renovation to sell then you have to watch your budget very carefully. If you are doing a renovation to stay in place then you can splurge more knowing that you may not get money back from a particular thing you decide to do but you will get personal enjoyment.  Overbuilding is one of the biggest mistakes people can make because once you get into a renovation project it becomes extremely easy to keep fixing things as you go along.  Those fixes can add up to a lot of extra money that you may not get back when it is time to sell.
Not Acknowledging Great Work
When you are doing a renovation your trades and your contractor are your biggest asset on the job. You need to notice the good work they are doing and let them know that you appreciate their hard work.  People love to be acknowledged and noticed.  If the only communication you have with your trades and contractor is when something is not going well you are setting up the entire job to have disastrous communication which can have a bad end result.  Keep a VERY open line of communication with everyone working on your home and make it known that you are easy to work with and can handle bad news well.  There will be a moment on every renovation project when your contractor will have to point out something that didn't go as planned.  He/She needs to know that you are open to discuss whatever comes up.
Not Comparing Prices
In every renovation you will have certain items that need to be purchased. That could be as simply as appliances or lumber.  Make sure that you are shopping around and comparing prices.  There is a large discrepancy in prices and you need to shop around.  A simple faucet could be $100 in one store and $50 online.  But if you buy online make sure you are truly buying what you think you are buying.
Not Taking Advice From Experts
Before you EVER start a renovation talk to experts. Even better bring them all together for a meeting. I ALWAYS have the plumber, electrician, contractor, kitchen designer meet at the property to discuss the project.  You would be surprised how much money you can save by having all those experts meet for a brainstorming session.  I once saved $11,000 on a renovation because my plumber and electrician came up with a great solution for a challenge I had on a renovation.  Do not EVER skip this step.
Doing a renovation is a MAJOR time and money commitment. It is like running a business that definitely takes time. Take the time to get prepared and take the time to stay organized and you will reap the rewards.