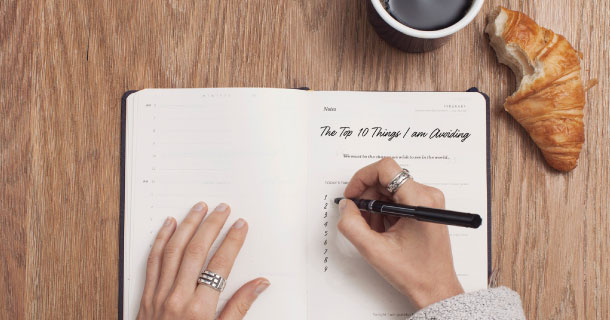 Do you ever get that feeling in the pit of your stomach when you think about that certain thing that you have been putting off?  That thing you know you should do and would make you feel better to just get it off your plate? But the thought of tackling it is so overwhelming that you just push it back to the recesses of your mind and hope to forget about it?
If your thoughts went immediately to that thing…or things…that are weighing heavily on your mind, I am talking to you.
Maybe it's avoiding a hard conversation with a client…
Maybe it's reaching out to a past client who gave you a referral, but you haven't yet taken the time to thank them..
Or maybe it's avoiding going to that doctor appointment for your annual checkup!
I find that whatever that thing is that you are avoiding, it is usually that one thing that ends up having a big impact on your business or your life.
Ask any agent who has ever avoided having a price reduction conversation with a seller how good they felt when they finally made a plan for that conversation and addressed it.
What about that cluttered office or closet that you finally cleaned? Didn't that made you feel like you had tackled the world and were ready to get back to work?
The problem with avoiding the things you don't want to tackle is that they are holding you back. We avoid what we don't naturally love doing. In fact, we make a million excuses as to why we need to be doing something else. But there are things in your real estate business that you either have to figure out a way to do or you need to pay to get them done because a strong thriving real estate business has to have a balance. And the negative energy that is generated by having things you are avoiding will weigh you down.
And if is health issues you are avoiding, STOP. This is your wake-up call to listen to the voice in your head and deal with it TODAY. Call your doctor right now and make that appointment.
A great way to deal with the things you are avoiding is to make a list. Title it THE TOP 10 THINGS I AM AVOIDING. Take ten minutes and write down those things you are avoiding.
When you claim the fact that you are avoiding these things something very powerful happens. Instead of taking up more space and energy in your brain, you have taken away its power by containing it on a sheet of paper. You naturally want to work on eliminating some of the items.  Start with the easy ones and before you know it you will find that working on that list isn't nearly as hard as your mind had made it out to be.
When you avoid something, it is simply your mind's way of telling you that it is uncomfortable for you.  Getting uncomfortable is one of the many secrets of the successful agents.  My real estate mentor once told me many years ago that I could become rich in this business if I was willing to do the things that other agents found uncomfortable.  That is when I became obsessed with geographical farming and working expired and cancelled listings.  He was right, I tackled something that other agents found uncomfortable until I got comfortable and successful at it. And I didn't avoid lead generation after that.
Take some time to make a list of what you are avoiding and get power over those things today!