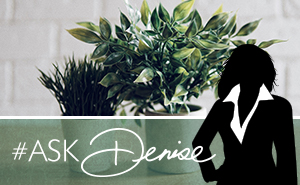 Q: "Denise, it is almost summer and I have a seller who is listing next week. The listing will actually be vacant as they are going on vacation for three weeks. They have done a lot of landscaping and have flowers in pots outside. Usually I would go ahead and water the plants, but I am getting a little worried about liability based on some instances that have happened with little issues in my office with other agents. Should I not water the plants? It seems extreme to let the plants die in the name of avoiding liability!"
A: Let me start by asking you a question – are you a professional plant care person? Do you have a plant care business on the side? If not, then you can hire this service out and let the professionals take care of it.
If you built your business on concierge client care and it is important for you to take care of this, then you can hire a company – with the seller's written permission and a hold harmless agreement. If you would like additional information on how to set that up, check with your managing broker to learn how he or she would prefer you approach this.
Although it can seem harmless, there are a number of issues that can ensue with something as innocent as plant watering. What if you over-water and leave marks on the floor or on a piece of furniture? What if that over-watering causes the floor to buckle and tile to lift? What if it is winter and there is a freeze which causes several of the pots to break? What you don't know CAN hurt you…and your clients!