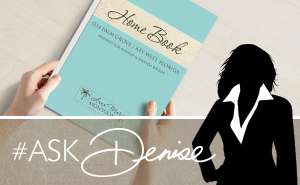 Q: "Denise, I am working on my listing presentation project with your team right now and your team asked me if I use a Home Book. I remember this used to be a big deal many moons ago, but I haven't seen one in years due to homes selling very quickly! Is this still a thing that we should do or is this passé since so much information is available online?"
A: You should absolutely do this because others don't. It is still great information to have when a potential buyer is viewing a listing in-person or during an open house.
Here are some things that can go into your Home Book:
Property tax information and history
Sales history (if relevant)
Boundaries/surveys
Preliminary title report (showing easements, etc)
Utility information
Lease information (leased equipment such as propane tanks or solar panels)
Seller disclosure
Information on upgrades
Appliance information
Zoning
There are analytical people out there who love love love information and by providing it, you will be the go-to. It is well worth it!