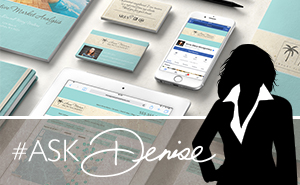 Q: "Denise, I am considering developing a brand and some basic systems with your company. I appreciate that you offer monthly financing (as I am not cash rich at the moment), but I wonder what I can expect in terms of a return on that investment."
A: In my experience, brand development pays off time and time again. But, it depends on how you use it. There are agents who never fully implement the brand and the systems and therefore never realize the full potential of the investment.
However, if you fully participate in the branding process, provide thoughtful feedback on both the brand and the templates and systems we provide you with, participate in the strategy calls with us, and really take the time to learn how to use the materials that we have built for you (we even provide the training!) then I have no doubt that that investment will provide a positive return year in and year out. The increase in confidence alone will attract more people to work with you.
If you are thinking about a brand, I highly encourage you to check out our Summer Special which ends on 8/17/18. In fact, here is a link to dozens of statements from our happy clients who took the leap and got a brand.