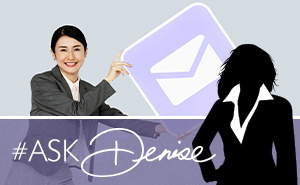 Q: "Denise, I have been using my local internet provider's domain name for my email address for many many years. Think [email protected]. It is silly because I have a great domain name for my website, but just have never gotten over the hurdle of changing my email. I am about to develop a brand with your company and know the time is now to make the change since it is going to be on everything from business cards to house flyers. I am nervous but know I need to do this. Where do I start?"
A: Congratulations! This is a great move for your business. It really says that you are established rather than juggling your personal and business email under one umbrella.
For example, let's say your current email is indeed [email protected], but you really want [email protected]. The first thing to do is to contact LocalProvider.net (Comcast, CenturyLink, Google, Yahoo, etcetera) and ask them if you can connect your [email protected] email address to your current mailbox. If your current email provider says yes, great! They will give you some information to give to your domain registrar, that's the place where you bought LindaSmithRE.com, and your registrar will take care of the rest.
But what do you do if they don't say yes?
If your current email provider says anything other than yes, that means you will need to get a new mailbox. Before you proceed, ask yourself these questions:
How will I access my old email? Can it be transferred? Have you already downloaded it to your computer?
What will I do with my old email address? Will your current email service allow you to forward email to your new address? How will you notify your past clients?
Will I need to update any accounts to my new address? Don't forget about bills or accounts you have online.
Let's say your old email provider can't do what you want and you have decided to get a new mailbox. You have two options:
Option 1: Check with your domain registrar. If they provide mailboxes, great! Get one and let them do the work of setting it up for you.
Option 2: If your registrar doesn't have mailboxes, there are lots of places that do. Ask around and find one you like. Once your new email mailbox is setup, they will give you information for you to pass along to your domain registrar so that your email starts arriving at its new home.
Either way you go, once your new mailbox and email address are up and running your next step is to find out if your old email service can forward email sent to your old address to your new address.
Do you have unanswered questions like the ones I asked above? Your new email mailbox provider is your expert for answering these questions and for helping you connect your devices to your new email address, but if you can't get the help you need there, contact a professional. Email is too important to your business to not have it working the way you need it to.