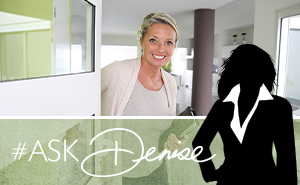 Q: "Denise, I am so tired of holding open houses! Every time I ask if buyers are working with an agent, they answer, "yes." Are they all really working with agents or are they just blowing me off?"
A: There is really no way of knowing, but if you are constantly getting shut down when you ask the question, maybe you are asking the question too early. Of course you want to be respectful of your colleagues, but often buyers perceive that a question that is asked too early like that is really for the benefit of the agent instead of for their benefit.
Instead, change it up just a little bit. Try this:
Upon arrival, give them a flyer about the home, tell them about three home features to watch out for, then indicate you have some additional information in the kitchen or dining room. This lets the visitors know that you are not going to pounce, letting them feel comfortable.
When they come to the kitchen or wherever you have your additional information, ask them what they thought about the features you had pointed out originally. This is an open-ended question that can get them talking. Instead of just asking, "Did you see the soaking tub in the Master?" you can then ask them another open-ended question like, "How would you say this property compares to other properties you have looked at?" The answer to this question will give you clues. If they say they have just started their home search, this would be a great opportunity to ask if they want information on additional properties. This is their opportunity to share whether or not they already have a resource for that.
The key to is to encourage conversation and offer information. Give, give, give. Give information on the market. Give information on other properties. Offer a neighborhood appreciation map. Then, as your relationship builds and you have a formal buyer intake meeting, that is the opportunity to lay out how you work and discuss exclusivity. But it is like dating – you don't want to scare off someone with a commitment request before the first date!