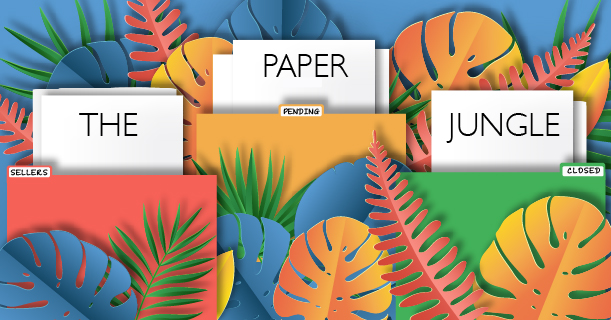 As a real estate professional, you have to deal with not only your personal and financial files, but also your business files.  Keeping your business files in order could make the difference between having things in order or a chaotic mess that could even lead to legal ramifications.  For both your personal paperwork and your business paperwork, you must come up with a simple system to keep all of your documents in order.   Many real estate agents struggle with this. With the increase of electronic files, it is even more important than ever before to create a system that works for you.  Here are some ideas to help you manage your files:
COLOR CODING YOUR CLIENT FILES- Color coding is the key to helping you find and file things quickly. There are two main things you need to track when working on your file management systems.  The first is to track your CLIENT FILES and the second is to track your FINANCIAL FILES.
Let's start with a simple system for tracking your CLIENT FILES.
I like to separate the files into the following categories, and I assign a different color to each type of file so I can quickly visually identify each category.
BLUE – Buyers
Put all your ACTIVE buyer files into blue file folders.  (The eye can pick up files quicker if you minimize the number of files you have to look through, and color coding makes this so much easier.)
RED – Sellers
Put all of your ACTIVE listing files into red file folders.
YELLOW – Pending
The moment either your BUYER or SELLER goes pending, move that file into the yellow section of files by simply wrapping a yellow folder around the buyer or seller file.  This way, when you see a yellow and blue file you know that this is a buyer file.  When you see a yellow and red file you know this is a seller file.  This keeps all of your files organized, easy to see, easy to pick up and easy to file.
GREEN – Closed
The moment your buyer or seller file closes, move the file from the yellow pending section to the green closed section.  Simply remove the yellow outside folder and replace it with a green folder.  This visually keeps all of your files in order – easy to view and easy to use.
Using a color-coded simple filing system saves time and energy and makes filing and file management manageable.  This doesn't mean you don't have to keep your electronic files in order as well. Many real estate offices have a set protocol for how electronic files are to be kept.  But agents who struggle with paper files will find this color-coding system very helpful.
CATEGORIZING YOUR FINANCIAL FILES
Financial file management and the tracking of business expenses is an area that many agents struggle with.   Again, I highly recommend using color-coded folders and color-coded hanging files.  Some agents like to color code all the files in a specific year with the same color.  Other agents like to color code using different colors for each category of expenses.  This way, it is easier to see to file invoices, receipts and statements.  The key to good file management is easy file management.   Create files for each of the following expenses:
MLS Fees
Office Fees
E&O Insurance
Commission Stubs
Membership Fees
Sign Fees
License Fees
Education Fees
Advertising Fees
Marketing Fees
Printing Fees
Internet Fees
Website and Technology Fees
Listing Marketing Fees
Auto Expenses
Cellphone Expenses
Office Supplies
Insurances Expenses
Miscellaneous
MANAGING YOUR RECEIPTS AND EXPENSES
The first step in keeping track of your expenses is to keep track of your receipts.  The challenge for most agents is that they collect a bunch of receipts and then cringe at the thought of organizing them.  By the time they sit down to reconcile these receipts, it becomes a major task to match receipts to statements because they are not in the right date order or separated by accounts.
The simplest way to manage this is to have a small paper divider in your wallet for each type of payment method you use.  For example:  If you normally use one debit card and two credit cards then have three dividers. Each time you have a new expense simply file the receipt in the appropriate section with all receipts filed behind one another.  The purpose for doing this is so that when your bank or credit card statement comes you can simply and easily reconcile these receipts and they will automatically be in date order because they were filed by date.  You did this without having to think about it or sort anything, you simply had to have a rule around how you filed the receipts when they came in.  When your wallet gets too full, simply take the receipts out of your wallet and put them into the account file in an envelope.  When you go to reconcile your monthly statements, begin reconciling the receipts in the envelope first and then move on to any that might remain in your wallet.   This is the fastest and simplest way to organize your receipts.
SIMPLIFYING YOUR PERSONAL FILING SYSTEM
A good filing system is a color-coordinated filing system.  I have been using colored files for years and I couldn't be without them.  They save me so much time because I can simply look for the colored files when I do my filing, which makes my filing so much faster.
In a drawer close to where you manage your money or pay your bills, have your files set up in categories. It is critical to have categories set up.  Those categories need to include any and all accounts you have that need to be paid or that need some attention from you on a regular basis.  Each category needs to be labeled and each category needs to be color coded.  Here is a list of some sample categories and how I would recommend color coding them:
Mortgages                        

Color:  Red

Utilities                                

Color: Blue

Credit Cards                       

Color: Yellow

Banking                               

Color: Green

Auto Loans                        

  Color: Orange

Medical & Dental            

Color: Red

Investments                      

Color: Blue

Insurance                           

Color: Yellow

Tuition                                

  Color: Green

Subscriptions                    

Color: Orange

Professional Svcs             

Color: Red

IRS & Taxes                        

Color: Blue
You can add any category that fits your financial picture.  You then insert the same color file folders into the hanging category folder. This way everything in the mortgages category is red and all the utilities files are blue.  This really helps when it comes to filing your bills and paperwork.  Your eye quickly takes you to the colored section that is appropriate and you actually save time.  Each category needs to be clearly labeled.  When you are reconciling, keep in mind that the easiest way to keep track of your tax deductible expenses is to use colored highlighters when you are reconciling your receipts to your statements.  Simply highlight any item that is a tax deductible expense and then when it is tax time it is easy to document all of these expenses.
THE FILE STORAGE SYSTEM
I also recommend keeping a file storage box that is a duplicate of the one you have in your drawer so that as the year goes by and your drawer gets full or papers and receipts you simply transfer the contents of the files in the drawers to the files in the storage box.  That box is labeled by year and at the end of the year you transfer all the contents out of the drawer into the box and then you have a nicely organized system by year that you can use for tax preparation or storage.
THE IMPORTANT DOCUMENTS SYSTEM
It is critical to keep all your important documents in a separate binder and have the binder tucked away in a safe or a safe place.  If the documents are in an easy to carry binder, you can take them with you when you need them without having to rummage through a bunch of files.  These documents include:
Birth Certificates
Death Certificates
Marriage Certificates
Social Security Statements
Life Insurance Policies
Copies of Investment accounts
Deeds
Passports
Savings Bond information
Funeral Planning information
Medical information
For your financial files, receipts, important papers and tax documents to be kept in order, they all need a home, and they all need a system of operation.  By following a few of the ideas above you can really simplify your filing, sorting, and organizing.  If you have things you do to keep your world organized, share it with me and I will post your system in an upcoming zebra report.