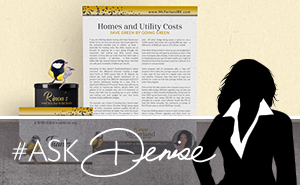 Q: "Denise, I have been thinking of building a brand for a long time and I am finally ready. What has held me back? Well, I really love birds and I had wanted to incorporate them into my brand, but that little voice in the back of my head kept asking, "What do birds have to do with real estate?" I had self-doubt. But I was standing in a wooded backyard with buyer the other day and we were listening to all the birds calling to one another. I decided there and then that birds and real estate absolutely go together! What do you think?"
A: I love it! What makes it a great fit for you is that you have a story and your brand can help you tell that story. The other thing I like about this idea is you can really expand on it. Here are a few ideas:
If your company and/or MLS allow it, you could affix some bird cutouts to your yardarm signs – or even a silhouette like a woodpecker.
For a closing gift, you could provide a bird song book so the homeowners can identify the birds they hear in their new backyard. (Here's an idea from Amazon.com)
You could possibly highlight a local bird rescue as your charity of choice and make videos if you visit.
I love it when agents take their brands to a whole other level and I can't wait to see what you do with it!
---
Our Semi-Custom PRO gallery had this little gem on-hand to show you what a bird-themed brand might look like: