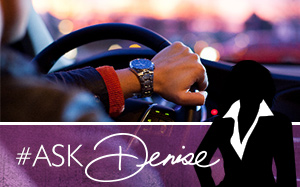 Q: "Denise, I have a past client buyer who is very unhappy. When we were house-hunting, she had said she wanted a property that was only about 20 minutes from where she works. At the time, GoogleMaps indicated the average travel time was about 20 minutes during her commute. However, she says that it has only one time been 20 minutes or less – most of the time it is closer to half an hour. She says that I misrepresented the property. Is she right? What should I do?"
A: If you represented the property was a 20 minute drive then she has a leg to stand on. However, what you should do to protect yourself in the future is…disclose disclose disclose, present your disclosure in writing, and indicate the buyer should do their due diligence.
If it were me, I would present it like this, "Buyer, GoogleMaps indicates that your average drive at 8:00 am will be 20 minutes. However, I don't make this drive every day, so this is something I would encourage you to check out. I also don't know anything about future road construction or any other issues that would make the commute longer. Please check it out on your own." Present that in an email, make sure they respond and that way you have a record of advising them to check it out. You are not a traffic engineer!