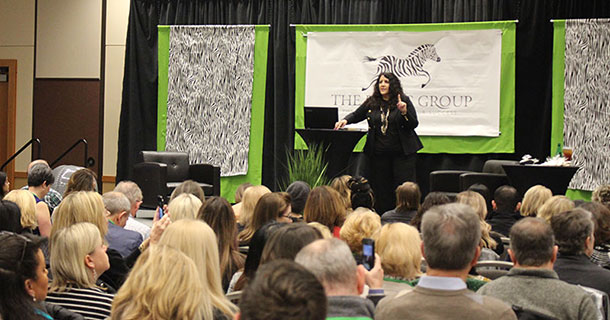 Yesterday was our annual Real Estate Success Summit and oh what a success it was! The event was sold out and I was honored to have the most incredible group of speakers share the stage with me.   It was such a special day and I thoroughly enjoyed being able to share my research and predictions with so many incredible real estate professionals.
What I really want to focus on was not the actual event itself but rather the incredible work, energy, brilliance and talent of my team and the special guests and speakers that gave up their valuable time to give back to our very special real estate community.  I can't do what I do without my talented team and their support is cherished by me.  We are only as good as the incredible people we surround ourselves with.  I only surround myself with the most talented, competent client care focused individuals.  I am truly blessed to have the team I do.  Thank you Shauna, Randy, Nancy, Nicole, Jamie and Izabella, you are my team, my posse, my little tribe.  I ADORE each and every one so and appreciate all you do for me and our special clients.  I can't believe that some of my employees have been with me 17 years, 14 years, 10 years etc.  Those are powerful, special incredible long term relationships that I truly value.
Now onto the speakers, WOW, WOW AND WAY MORE WOW
Kitty Wallace
2020 President Washington Realtors
Platinum RPAC
President Circle member and RPAC Hall of Fame
2016 Washington State Realtor® of the Year
Thank you Kitty, you are a powerhouse and every real estate agent in the Washington State is about to see the force of your talent as you lead us in 2020 as our Washington Realtors President.
---
John Wilson
King County Assessor, 2015-present
John thank you for all the work you do advocating for our very special seniors. You have a heart for our seniors.  We need more people like you and I thank you so much for sharing your brilliance with us.
---
Jerry Mahan
Top Record Producer, John L. Scott
Jerry, WOW, what a career, what a giver, what a great person you are to share your career secrets with all of us. Thank you.
---
Barbara Clark
Windermere Premiere Director
Managing Broker
Multi-Year 5-Star Agent Award
Barbara it is crystal clear why you have been so successful in real estate.  Your grace, honestly, integrity and design flare make you an unbeatable force of nature. Your clients are lucky to have you.  You are a class act Barbara!
---
Veronique Hval
ALHS, CNE, SRES
Windermere Premier Executive Director
NAPW Woman of the Year Award 2011
Multi-Year 5-Star Agent Award – Sharing your luxury real estate success story with all of us was so inspiring.  You have proven that hard work, market knowledge, specialization, and first-class service can build a strong business that can endure the test of time.
---
Andrea Fjortoft
Coldwell Banker Bain, Multi-Year 5-Star Agent Award
Coldwell Banker Diamond Society and President's Circle for Top Company Sales Volume
Your passion for people shines through in everything you do.  The world lights up brighter ever day just because you are in it.  You are tenacious, strong, kind, giving and you are one of the hardest working agents I know.  Thank you for sharing your tips with us.
---
Brittney Bell
Infinity Real Estate Managing Broker
ABR, CRB, CRS, MRP, RENE, SRS
Multi-Year 5-Star Agent Award
Best of Kitsap Real Estate Broker
Best of Kitsap Real Estate Office
Brittney you and I started selling real estate at the same age, and you have used hard work, persistence and a passion for investing to drive you to be the best you can be.  You are a powerhouse and someone who can move mountains.  Thank you for reminding all of us to do it our way!
---
Jay Agoado
GRI, CRS, e-Pro, SRES, Windermere
Jay your career has been simply EPIC.  Your clients adore you, fellow agents trust you, look up to you and admire you.  You are a consummate professional and your desire to help other agents succeed is something that you always make time for.  I am so excited that I will get to work with you this year as you spend more time co teaching with me and co coaching with me.  I am so excited for the year to come.
---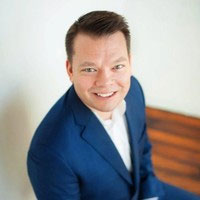 And I can't forget our incredible sponsor Drew from Guild Mortgage – Drew, you get it, you understand that real estate agents need strong partners and your client care philosophy is incredible.  You are a true professional, incredible to work with on any project and your desire to make everyone else's path easier is obvious every time I get together with you.  I could not put on this kind of event without a strong sponsor like you, thank you Drew.
Thank you to everyone who came and just know that as I look out into the audience and share my research that I value each and everyone of you.  Here's to the best 2020 ever!
Looking for more live education with me? Our Success Summit kicked off our Winter-Spring class line-up, so if you would like to learn more about that visit here.