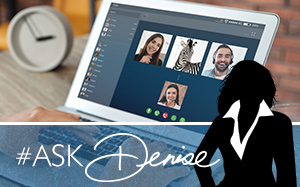 Q: "Denise, with social distancing and trying to adjust to this new normal, I guess I am finally going to have to get comfortable with video or at least using a web cam of some sort. Any suggestions?"
A: That's right! This is a great time to finally get comfortable and dive in! Here are a few ideas to help you get comfortable:
If you are just using Facetime or a technology that focuses on your face, this might make you conscious about what you look like when you are talking. This is because it has that little screen that shows what your viewer is seeing. But what if you didn't see that screen? If it really bugs you, you can see if you can turn that setting off on your device. That way you are just focusing on the conversation and not what you look like. If you can't turn it off, get a little post-it note and cover it.
If you are using your computer and a conferencing interface that allows you to share your screen (like Zoom), have materials prepared to take the focus off of you. This might be a tour through the MLS, statistics you have gathered, maps, websites, etc. Depending on the program you are using, you still may show up to the side, but the screen showing you will be small.
If you are sitting at your computer and you are going to be doing a lot of this, you may want to consider putting yourself in the best light. And that is where the ring light comes in! There are many different solutions out there (many of which are in short supply at the moment due to demand for video conferencing solutions). Just do a search for Webcam Ring Light and check out the solutions!
Now in terms of using video in your listings (especially in areas where open houses are limited right now), one great way to get comfortable is to work with a videographer that you are comfortable with. The more comfortable you are, the easier it will be for you to introduce the property and talk about the features and benefits of the home. I strongly urge you be visible in your listing videos. This is a great way to market yourself and your expertise!
Now more than ever, the time is now to get comfortable with video. We are all getting pushed out of our comfort zone. This is a push that will pay off. Good work!