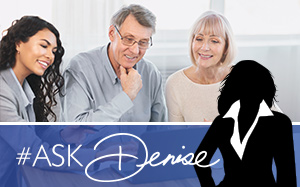 Q: "Denise, I caught your Denise Live this week about how recognizing someone's personality can help you communicate better and I am looking forward to your four-part series on this! I am a promoter and have a senior seller who worked as an engineer all his life. Although he appreciates the work I am doing for him, he seems to be constantly annoyed. How do I win him over?"
A: If he was an engineer and he seems to be annoyed, he is probably has both analytical and controller personality traits in him. Analytical and controller personality types value:
Tasks
Efficiency
Getting things done
Punctuality
Let's dive deeper to see how you can win him over:
Tasks – Get things done in a timely manner. If you say you send a weekly report on Mondays, make sure you send the weekly report on Monday. If you said you would send him a document, make sure you get it done.
Efficiency – Use language like, "Is now a good time to go over <blank>?" "Do you have five minutes?" "Can I go over four questions with you?" This language shows that you have an agenda for your conversation. If you are sending an email, be succinct and use bullet points.
Getting things done – Provide the seller reports on what you have gotten done, what is still outstanding, and what you need from him to take the next step.
Punctuality – I cannot stress this enough – be on time with your appointments!
But remember! Winning him over doesn't mean he is going to act like a promoter. It means you will have earned his respect. You will be able to tell if you have won over a controller/analytical!
Club Zebra members can view the video here.