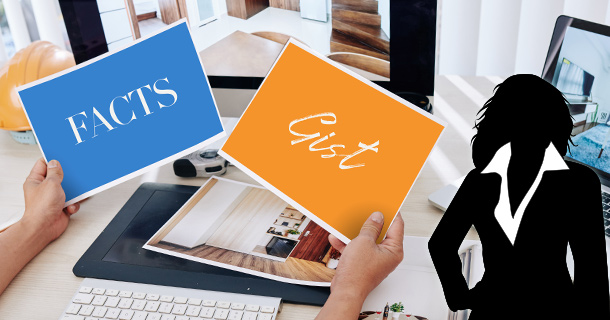 Are you a facts agent? Or are you a gist agent?
It likely depends on the situation, your personality, your frame of mind, and what the situation really calls for. How you like to receive information may also be different than how you prefer to provide information.
The gist isn't a bad thing – you still make your point, but sometimes the gist is made much more powerful with facts.
As a professional, it is important to know what the moment calls for, but you should always be prepared for both.
For example, if your analytical buyer says, "There is just nothing on the market. I am going to wait until next year and maybe prices will come down," you have to ask yourself if that is a gist moment or a fact moment. What is more effective? Well, which statement do you find more powerful?:
"You could wait, but I think prices are going to continue to go up."
OR
"Between 2018 and 2019, median sales prices in our area grew 7%. Between 2019 and 2020, they grew 9.3%. I don't have a crystal ball, but nothing is indicating prices are coming down and in fact, they have risen .8% since the end of December."
The second statement is much more powerful, and will probably get their buyer to think twice about waiting, but most agents don't have stats like that at the ready or they don't have confidence that what they remember is correct.
When I was a new agent, and remember, I was very young, I made learning and memorizing stats a priority. This made it very easy for me to rattle off a fact or figure when the moment presented itself. I didn't memorize pages of them, but I did have maybe ten stats I memorized each month that were ready to go. This small thing that I did transformed my confidence and my business.
Think about some other professionals you have in your life and if you expect facts or the gist in their communication. If you go to the doctor because your back is having problems, what response do you expect?:
"Your back is bad. I'll recommend some physical therapy."
OR
"You have a bulge between L4 and L5 that is caused by a herniated disc. In addition to heat, ice, rest, and physical therapy I would like to watch it for about six weeks. In six weeks, come back and we may do an MRI depending on what we find. We will provide you with instructions for these next steps as well as the referral for physical therapy."
Or your accountant…
"Wow! You owe the IRS a lot of money!"
OR
"It looks like you owe $14,432 for your taxes last year. I have printed out the voucher for payment as well as your estimated quarterly tax vouchers for next year. If you can put $30,000 in your retirement plan, we can offset most of the balance owing. Would you like to explore that?"
"But Denise! I can't possibly have all the facts committed to memory that I would need to come up with in conversation!"
Of course not! A good strategy, though, is to focus on a larger area and then offer to follow up with facts for a smaller area. That way when you are asked a question like, "I hear that prices are off the charts! What are you seeing?"
You can say, "I can't believe it either. Buyers want to buy, but there is so little inventory, it is driving up prices. Would you believe that in XX County, median sales prices reached $XXX,XXX last month? But you live in XXX City and probably want to know what is happening there. Can I send you a report that shows exactly what is happening with prices in your area?"
Offering a fact provides credibility, an opportunity to share your expertise, and in this case, provided an opportunity to follow-up!
After the Real Estate Success Summit, I received messages from agents who indicated they had put some of the facts presented to work already with their clients. They were more confident in their message and delivery because they had facts to turn to. If I had just gotten up and said, "The real estate market is still strong. We have no inventory, still lots of buyers, not enough new construction, yadda, yadda, yadda, prices are going up," that doesn't provide enough facts to give my listeners confidence in what I was presenting and there would be no nuggets of proof for our attendees to share with their clients.
I just love hearing how the data is already put into practice! Here are some of those comments:
"Loved having this information and statistics to share with our clients. Also, being able to review it again and watch the agent interviews will be perfect to have as a resource."
"Denise is a pro at giving the facts straight-up and in a way for every personality type to grasp the material.  The way she breaks down the stats and explains the trends are incredibly helpful in this ever-changing market.  Thank you Lones Group for sharing your expertise!"
"This is by far the very best State of the Market presentation the Lones Group has delivered so far! The content was robust and interesting and the delivery was such that you didn't want to miss a moment. The pandemic has affected us all, and to have some stats to give me perspective was both a relief and a worry 🙂 I feel more prepared for clients' questions."
"Denise brings relevant information and solid, well-researched market predictions that help me understand what is around the corner and helps me speak intelligently to my clients. Invaluable!"
"I always look forward to Denise's State of the Market address! I was very relieved that you were able to hold it this year via Zoom!! The handout is awesome, and I am sure I will be referring back to it when meeting with clients. Looking forward to the replay. Thanks!"
"Denise Lones and her group of professionals prepare the research and time-sensitive issues in such a way that all class participants are able to relay the necessary and critical information to our clients.  No one else does it better.  I attend every class I can possibly work into my busy schedule presented by Denise Lones."
If you haven't had a chance to watch my State of the Market class yet, this is your last chance! The playback of the State of the Market portion of the Real Estate Success Summit is only available until February 12th – that's tomorrow!
Take a few hours and add some facts to your real estate conversation arsenal and watch your confidence level soar!
By Denise Lones CSP, M.I.R.M., CDEI – The founding partner of The Lones Group, Denise Lones, brings nearly three decades of experience in the real estate industry. With agent/broker coaching, expertise in branding, lead generation, strategic marketing, business analysis, new home project planning, product development, Denise is nationally recognized as the source for all things real estate. With a passion for improvement, Denise has helped thousands of real estate agents, brokers, and managers build their business to unprecedented levels of success, while helping them maintain balance and quality of life.