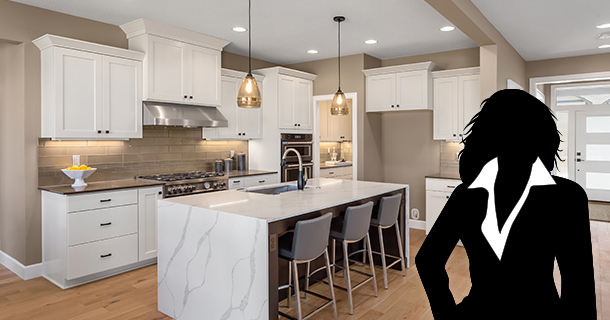 This week I am on-site at one of my properties. I've just finish a renovation here, and I have to share something very important: the building industry, home design industry, renovation/remodel industry—they're all changing! And it is dramatic.
That's why I have scheduled an online workshop covering the hottest trends later this summer to go over some of those changes. I'm going to go over architectural trends, color and paint trends, cabinet trends, and more.
Just to give you a preview in this new kitchen, one of the biggest trends in kitchens is adding shelves. You may notice that the cabinets are not white, but linen, which is one of the hottest color trends right now especially when combined with a pop of black in the handle. Another major trend we're seeing are these clean rectangular glass tiles.
"But Denise, why should I care about trends? They're just going to change anyway," I can hear you say.
You should care because your clients are going to ask you questions about this. Whether they are thinking about renovating before a sale, after a sale, or just touching up their home for listing photos, they trust your opinion and they want to know what's really going on. Personal style aside, it's always good to keep tabs on what is currently popular, because that can affect your clients' bottom line.
Another subject I cover in the class is how to save money. Your clients will be eager to hear how to do a renovation on a shoestring budget. Fixer-uppers are also going to be more financially attractive. Your clients want to know what is a good idea and what is a money-sink.
We are also going to be taking a look at all the new products coming on the market. Specifically new counter-top products and flooring products. If I had to take two things to a desert island for a renovation, give me a few gallons of paint and some new flooring. The way flooring is engineered today is mind-boggling. You can save money and make impactful transformations that wouldn't be possible unless you knew it was available.
We've just gone through a very modern-minimalist phase, and now we're swinging back to a modern-traditional phase. That means warmer colors, richer textures, and more color and textures. My goal is to help you navigate this shift, even if it isn't your personal style.
Now, I'm a black-and-white kind of gal. I love high-contrast black and white, but on this remodel, I chose linen (not pure white) because that's what people want. Knowing little things like that can save you money, make you money, and give you the edge.
I invite and welcome you to the 50 Hottest Trends online workshop this August. Hope to see you there!
---

Interested in learning more about open houses and presentations? Need more sellers in your pipeline? Want to learn how to manage conflict, speak your truth, and make more money?
We are very excited to announce our summer and fall class lineup! Most classes are LIVE and in-person.
---
By Denise Lones CSP, M.I.R.M., CDEI – The founding partner of The Lones Group, Denise Lones, brings nearly three decades of experience in the real estate industry. With agent/broker coaching, expertise in branding, lead generation, strategic marketing, business analysis, new home project planning, product development, Denise is nationally recognized as the source for all things real estate. With a passion for improvement, Denise has helped thousands of real estate agents, brokers, and managers build their business to unprecedented levels of success, while helping them maintain balance and quality of life.