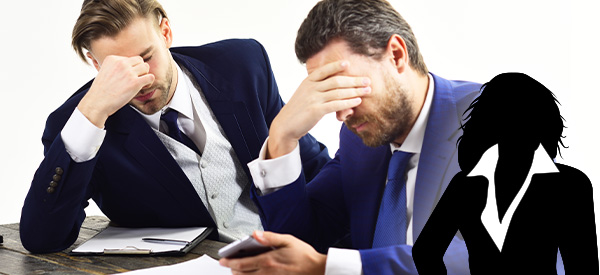 Quick show of hands – how many of you had a challenging transaction over the last 12 months? One that was in danger of failing at some point between pending to close?
Wow! Let's see. Hmmm…almost…all of you!
Last September, I was helping my clients in my ENCORE group deal with some challenging transactions and at one point, there were 28 transactions in danger of failing. Some were failing due to appraisal and money issues, but the vast majority were failing due to the action or inaction of one of the agents in the transaction.
"Wow Denise," I can hear you thinking, "that's pretty strong. Often our buyers and sellers are pushy and do what they want to do."
I totally agree! As their agent, you are representing your client and in many cases, they call the shots.
But just for conversations sake, let's change professions for a second. Let's imagine that our buyers and sellers are instead patients needing to undergo surgery. Could you imagine a buyer saying, "You know doc, you had said that we should take the gallbladder out, but I just have a feeling that the appendix is the way to go. Let's take that out instead."
I am sure the surgeon, being the professional that he or she is, would ask further questions about the appendix and do their due diligence to rule that out, but can you see a surgeon actually going through with that request? Of course not! Not only would this violate their code of ethics, but it is just not in the patient's best interest. In this case, it is up to the surgeon to speak up, explain what he or she can do, what they will and won't do, and options.
With the 28 transactions, there was almost always a moment in which the real estate agent (my client or the other side) should have stepped up, spoken up, and set expectations. They should have explained what could be done, what could not be done, been strong, set boundaries, or should have just stated the truth instead of kicking the issue down the road to have it become a bigger deal-breaking disaster.
This was almost a year ago and I am getting frustrated just thinking about it again!
We don't do our clients any favors when we don't tell them the truth. Sometimes the truth is hard to tell. But have any of the following situations ever threatened a transaction for you?
A buyer offers more than they are comfortable with and the buyers agent indicated they didn't think the appraisal would come in low…but it does.
A seller accepts an offer with an inspection contingency and the buyer is being encouraged by their agent to ask for extensive repairs in this market.
An agent forgets to include a form in the offer and instead of taking responsibility, blames the other agent?
A seller wants a rent-back which was written into the agreement, but now the buyer has decided they don't want to move forward with this arrangement.
During the final walk-through the buyer discovers that the hot tub is missing. It wasn't included in the agreement but the buyer's agent indicated they thought it would be included.
I can go on for pages! In all of these scenarios, one of the two agents involved should step up, speak up, and outline the facts and resolution. In a transaction, the facts and resolution are always:
Covered in the agreement OR
Covered by law OR
Covered by precedent OR
It isn't covered at all and a solution must be forged in new ground that is fair and equitable, either determined by the parties, by a rule-making body such as the MLS, or in a court of law.
In ALL cases, how you address the tough situation with your clients and the other party will affect the transaction and may affect your paycheck.
Back in September of 2020, although there were some transactions that were just unsalvageable, I worked with my clients to get many of them to close. It required them to speak up and be strong with their clients, even when it was the other side that had presented the original challenge. By keeping everyone focused on the goal of closing, my clients were able to work diligently on solutions that were in everyone's best interests.
Speaking up and being strong isn't easy for everyone. And that I why I am so happy to announce that in just a few weeks I will be holding a very special class co-taught by Jay Agoado to help agents in the field with this very issue.
Speak Up and Make More Money will be unlike any class you have taken before. We are going to be getting into the nitty-gritty of conflict, speaking your truth, and finding resolution in everything from conflict with your clients, with other agents, in a presentation, and more. We are going to get uncomfortable with the goal of moving forward towards resolution. We have fewer than 20 seats left for this class, so make sure you reserve yours today!
Join us at the Lynnwood Convention Center September 22nd -23rd for our Conflict Workshop with Denise and Jay Agoado to learn how to Speak Up and Make More Money!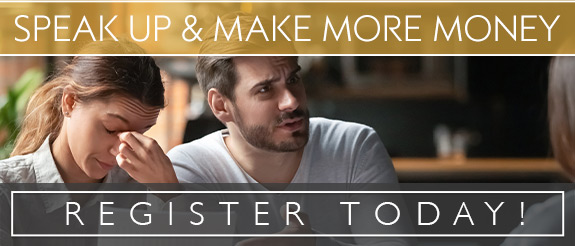 ---